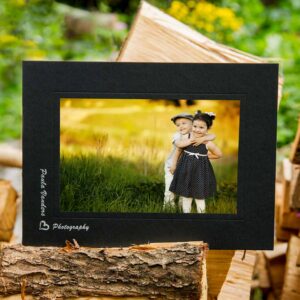 If you want to show your photos off and maintain a higher selling price for them, then the best way to do this is by using Strut Mounts or Folders. Your prints slip easily into the mount or folder, which enhances the original image. These also allow the photos to be displayed easily on a flat surface like a sideboard or mantlepiece, as well as providing you with a high quality, finished product that makes you look more professional and helps you to maximize profit from your events.
Photos printed on paper will always be prone to buckling. Mounting aims to prevent this and give photos a solid basis for display by fixing them to a firm backing. A mounted photo can be more easily handled for matting and framing with less risk of damaging the print. Mounting gives you more options when it comes to sizes. Instead of being forced to make a photo fit standard frame dimensions or being limited to standard frame sizes for a display, a mounted photo can be inserted into a much larger frame – or a frame of non-standard dimensions – by cutting the mounting board to fit the frame.
Black is a very popular colour as it looks modern, enhances the appearance of the original photo and also suits a multitude of events.
Strut Mounts (AKA Photo Mounts)
These are our most popular print presentation product. In fact, 100% of all the print presentation products we sell are Strut Mounts rather than Photo Folders.
They are available in all the standard sizes: 6×4, 7×5, 8×6, 9×6, 10×8 and 12×8.
The photo slips into the mount in either portrait or landscape orientation – this gives Strut Mounts the advantage that you only need one type of mount for each size of print.
The mounts also have a push-out stand, which can be used to support the photo in an upright position.
Photo Mounts are usually cheaper than Photo Folders as they use less material.
Photo Folders
These are available in the same sizes as the strut mounts (6×4, 7×5, 8×6, 9×6, 10×8 and 12×8) but differ in that they offer either portrait or landscape orientation. This means you need to keep two stock items for each size of print you offer.
Photo Folders are also more expensive than the Strut Mounts, due to the extra material.
Another disadvantage is that the photo can be hidden from view by folding the cover over the photo. Dye Sub prints don't need the protection that other methods might need and covering them places distinct limits on the marketing opportunity which is otherwise available as they are carried around the event. (See 'Clearface Bags' below for more on making the most of this.)
Photovalue Mounts and GF Smith Mounts
We are excited to add Photovalue mounts to extensive mount range. Customers now have the choice to the classic, simple and increasingly popular Black Mounts from either G F Smith or Photovalue. Or if you are want mounts with a touch of sophistication why not buy Black and Silver Mounts (Black with a single line of silver around the aperture.)  from either range instead.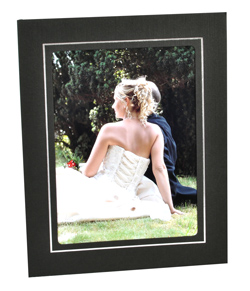 We still continue to offer premium quality and beautifully designed mounts at exceptionally low prices. System Insight offer a wide range of mounts of various sizes, structures and styles to choose from.
Both Brands of Mounts are of outstanding quality and each offer something unique to your product. You can choose from a range of sizes of Mounts from 6×4″ up to 12×8″ Mounts.
Black Mounts
Especially designed for Events including Proms and Corporate Events and much much more! A fantastic modern looking presentation product that's high quality at great prices! The classic black mount features a single debossed line around the aperture for a clean and contemporary finish. A two-way strut allows you to use these mounts in both portrait or landscape orientations.