[vc_row][vc_column][vc_column_text]
The Smart KioskGifts
The KioskGifts Smart Kiosk is the ideal solution for carrying out instant photo prints for businesses with little space but without losing any of the multiple options provided by the easygifts photogifts.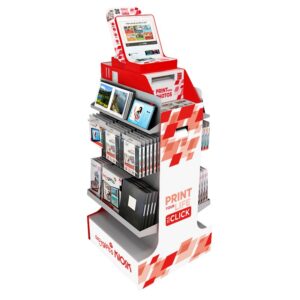 The Smart KioskGifts will definitely become a new and highly profitable business unit requiring very little investment.
With a small size of 264 x 320 x 86  the Kiosk incorporates a square format printing 15×15 as a novelty, which is ideal for printing Instagram images. The Smart KioskGifts offers customers the option of printing from their mobile device via the cable connection or via a wifi connection directly to the kiosk (via the kiosk APP), allowing access to the photo gallery or to social networks.
Smart KioskGifts offers different types of prints for photogifts, which is the ideal solution to allow shops to meet the needs of their customers:
EasyGifts Albums: Photo Albums of different sizes (10×15, 15×15, 15×20)
EasyGifts Calendars: Personalised Calendars
EasyGifts Cards: Greeting cards
EasyGifts Box: Gift boxes personalised with your photo.
Printing of photo sizes 10×15, 15×15, 15×20
Also, from www.kioskgifts.com, any customer can conveniently prepare their jobs from home and print them directly at the Smart KioskGifts that is located at their shop, allowing shops to provide this service to their customers without them having to wait in line for their turn.
Smart KioskGifts is a highly versatile product, an instant photo printing solution capable of adapting to any business.[/vc_column_text][/vc_column][/vc_row][vc_row][vc_column][vc_separator color="white"][/vc_column][/vc_row][vc_row fullwidth="no"][vc_column width="2/3″][vc_video link="https://www.youtube.com/watch?v=Kf009WjTkx0&feature=youtu.be"][/vc_column][vc_column width="1/3″][/vc_column][/vc_row][vc_row][vc_column][/vc_column][/vc_row][vc_row][vc_column][/vc_column][/vc_row][vc_row][vc_column][/vc_column][/vc_row]