SALE!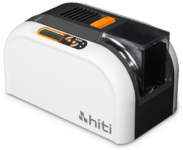 HiTi CS-220e
Exc VAT @ 20%
Product Code: HTCS200e
The HiTi CS-220e plastic card printer which prints photo quality single or double sided credit card-sized plastic cards including transparent cards. It can be upgraded with RFID, Ethernet, IC Chip encoding models.
The HiTi CS-220e Dye-Sub Colour Card Printer creates fast, convenient printing of standard ID sized cards with the unique ability to print on fully transparent card types. Edge-to-edge printing is possible at a rate of up to 180 cards per hour in colour, or 1400 cards per hour in monochrome, with a resolution of 300 dpi. The printer's dye sublimation printing process requires no ink cartridges and little maintenance for maximum efficiency.
Included with the printer is the CardDesiree CS software, which facilitates editing and designing templates and other components for cards. To further extend the capabilities of the CS-220e, a range of optional accessory encoding modules are available, as well as a Flipper module to permit automatic duplex printing.
Media Pack: CS200 1/2 YMCKO Ribbon, CS200 Cards - Top Signature Strip, CS200 K Ribbon, CS200 YMCKO Ribbon, CS200 YMCKOK Ribbon