OUT OF STOCK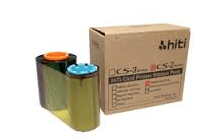 CS200 1/2 YMCKO Ribbon
£65.00 Exc VAT @ 20%
Product Code: HTCS200eCMYK12
The CS200 1/2 YMCKO Ribbon Pack – 560 full-colour on half the card – Ribbon Only
Out of stock
The CS200 1/2 YMCKO Ribbon Pack will print 560 half cards. The media pack contain only the print ribbon, the cards must be purchased separately.
CS200 1/2 YMCKO Ribbon will print 560 single or 280 double-sided full-colour cards, subject to printer compatibility. Includes black and clear overcoat.
Ideal for ID printing pre-printed cards.
Printer Compatibility: CS-200e, CS-220e
Print Size: Cards
Pack Size: 560 Prints
Number of Media Rolls: 1