[vc_row][vc_column][/vc_column][/vc_row][vc_row][vc_column][vc_row_inner][vc_column_inner][vc_column_text]The Mitsubishi Kioskgifts Counter All-In-One has been designed as a complete  photo gift solution for retailers.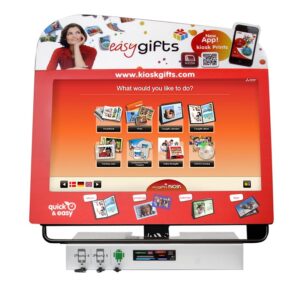 You can print instantly, print ID photos as well as unique variety of photo gifts including; personalised calendars, frames, greeting cards, plus much much more! In only a few minutes, your customers can easily and quickly turn their magical memories into treasured gifts! Using their very own pictures! Your customers also have the ability to edit their own images and produce their very own photo gift.

You can print a range of different print sizes to suit your needs. Print sizes include 4×6″, 6×8″ up to 8×12″ with both matte and gloss printing options available from just one roll of media and with no wastage. You have the different options to print 4×6″ (a popular print size), or large prints (6×8″) and even square prints ( which are especially popular with social media for example, you can print photos from Facebook and Instagram and other social media sites). Remember : you do require a compatible printer which is not included. Such as a Mitsubishi CPK60DWS
With the integrated gift modules, customers can easily edit their photos and produce a range of photo gift products including personalised calendars, frames, greeting cards and albums.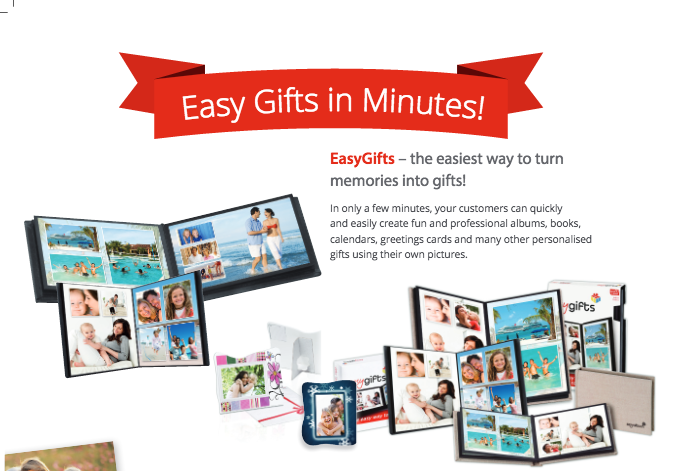 What's more, with the Easy Photo and Kiosk Prints Apps now available to download, customers can send images from their smartphones to the kiosk and print stunning images in minutes. This versatile system can add a whole new range of retailers to any retailer wishing to expand their business.
Mitsubishi KioskGifts Counter AIO Terminal Leaflet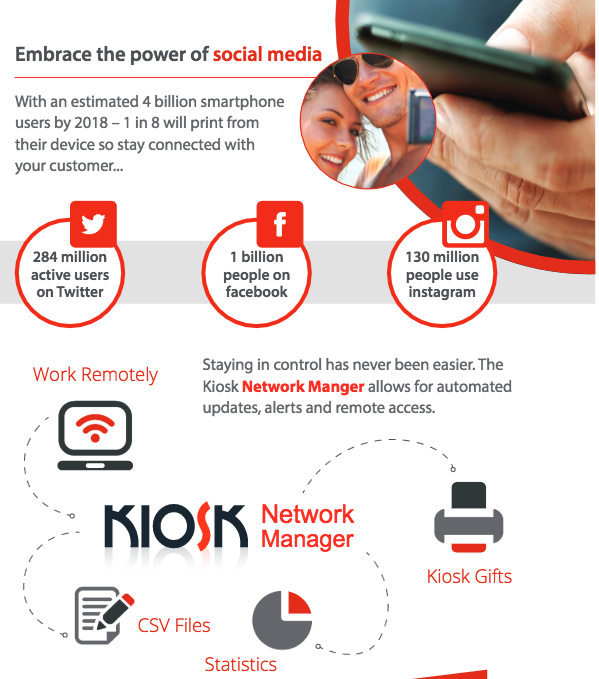 For more information about the Kiosks- please watch the Mitsubishi Video.
Images can be loaded into the system using media cards, CD/DVD, iphones (with a cable), Facebook, Picasa or an online Flickr account, giving customers a lot of flexibility.[/vc_column_text][vc_message]Initial Investment:                £2,700
Customers Per Day:                      2
Average Daily Purchase Per Customer:
30 6×4 prints at £0.35 each
5 6×8 prints at £0.99 each
Total revenue, minus print costs and VAT, per customer: £9.60
Days Open Per Year:                284
Revenue Per Year:               £5,452.80[/vc_message][vc_message message_box_color="juicy_pink"]
Key Features
2 Years' Warranty
All-in-One Kiosk
User Friendly
Self Service Kiosk
Smart Phone Connectivity
Upload Images from Facebook & Other Social Media Platforms

Gloss and Matte Finish
Range of Photo Gift Ideas
Photo Gift Modules Included
Up to 8×12″ prints

Includes Kiosk Network Manager services

Latest Pricing on the Mitsubishi KioskGifts Counter AIO
[/vc_message][/vc_column_inner][/vc_row_inner][/vc_column][/vc_row][vc_row][vc_column][vc_column_text][/vc_column_text][vc_column_text][/vc_column_text][/vc_column][/vc_row][vc_row][vc_column][/vc_column][/vc_row][vc_row][vc_column][/vc_column][/vc_row]