[vc_row][vc_column][vc_column_text]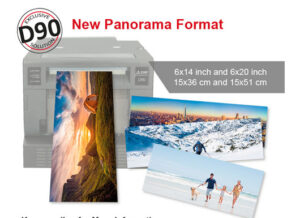 We are pleased to announce that Mitsubishi's CP-D90DW printer has a NEW PANORAMA PRINT FORMAT. You heard from us about Mitsubishi's panoramic printing becoming available last year. We told you that, you could print panoramic prints capable of  printing 6×14″ images. Now, they have gone one step further, you can print panorama prints up to 6×20″inches!
You can now print panorama prints on the CP-D90DW and also the Smart D90EV up to a maximum size of 6×20″ inches. This means, that you can print panoramic prints from 6×14″ inches up to 6×20″. Your printing possibilities are endless.
To make the most of the new print formats your printer will need a quick firmware update and new drivers will need to be downloaded from our website. These are available now! You are able to download both drivers and firmware for the panoramic prints for the 6×20″on our drivers and update section on our shop. The D90 has the Panoramic feature built into it's Windows and Mac Drivers.
For further information, please do not hesitate to contact us today. Or why not read our FAQ about Panoramic Prints.
You can produce panorama prints from a wide range of Media including; CK-D720, CK-D768, CK-D820, or CK-D868.
Mitsubishi are continuously bringing innovative and creative ways of instant printing to the market. There is a world of opportunities to print for any customer or occasion. Mitsubishi have recently released new post card media, and new perforated media plus much, much more. We can't wait to see what is next!
[/vc_column_text][/vc_column][/vc_row][vc_row][vc_column][vc_separator color="white"][/vc_column][/vc_row][vc_row fullwidth="no"][vc_column width="2/3″][vc_wp_custommenu nav_menu="13″][/vc_column][vc_column width="1/3″][/vc_column][/vc_row]