Mitsubishi's EasyPhoto System provides a complete, flexible and affordable digital photo solution that includes a small touch screen kiosk. It can be used with a variety of printers and has been designed with photo retailers, pharmacies and photographers in mind. EasyPhoto is a complete all-in-one solution for your digital printing needs.
Producing beautiful, clear, full colour bleed to edge photographs in a matter of seconds, the EasyPhoto is quick and simple to set-up and operate. The sleek compact design would fit into virtually any retail application with any of the possible printer combinations. The EasyPhoto and printer can easily be situated neatly on the counter top or separated, with the printer being housed out of sight under a counter or within a pedestal – an advantage that no other comparable system offers.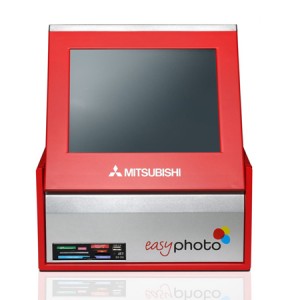 Convenient, over-the-counter payment is achieved with an optional ticket printer and wireless keyboard for order processing and password protection of functions. EasyPhoto can be customized to offer a number of standard options such as instant printing, mosaics, calendars, greeting cards and composition prints, with editing such as brightness, colour adjustments and red eye reduction.
The EasyPhoto is available in two versions of head-unit: The EasyPhoto v.2 and the EasyPhoto ID70 with three printer options being available: CP-D70DW-S, CP-K60DW-S and the CP-D70DW-U.
ID & Passport Photo Functions
The EasyPhoto ID70 only contains the modules required for printing ID & Passport images and can only be used with the CP-D70DW-U printer. This whole system is restricted to 6×4 prints and is ideal for retail environments where only ID & Passport prints are required.
The ID option will include automatic biometric adjustments making the offering of ID easier than ever before! Just connect a standard digital camera or insert a memory card and upload the images to the ID option.
The EasyPhoto v.2 Kiosk comes with the ID & Passport photo modules as well as calendars, collage and mosaic options built-in for ease of use!
Flexible Printer Options 
The Easyphoto system can be purchased with one of Mitsubishi's market leading, dye sublimation printers including the CP-D70DW-S, CP-K60DW-S and the CP-D70DW-U. The print sizes you can offer depend on the system combination you select which can be anything from just 6×4, 6×4 and 6×8 off the same roll or all print sizes from 6×4, 5×7, 6×8 and 6×9 – all produced quickly and easily! Cost per print for a finished 6×4 will depend on the printer system you choose but will be around 10-15p per print to the retailer, this is for either finished photo or an ID print!
With the EasyPhoto Kiosk, prices start at just £1000 ex.VAT for the ID70 System for a complete out of the box solution. Easyphoto provides a great return on investment that will literally pay for itself within months! Optional extras include a wireless keyboard, ticket printer and pedestal.
Paul Jones UK Sales Manager said, "Easyphoto is the ideal choice for photo retailers; it is easy to set up and operate and is extremely cost effective! It provides a refreshing alternative to the Kiosk products that have been in the market for a number of years as it is a flexible and easy solution that provides a great return on investment opportunity".
Overall…
The EasyPhoto is ideally suited for any retail application where the retailer is looking for a revenue stream from the sale of photos. Mitsubishi has a product that in our opinion is far superior to other manufacturers' offerings and at a very low selling price.
Both the CP-D70DW-S, CP-K60DW-S and the CP-D70DW-U printers have been found to be very robust and reliable pieces of equipment. The reproduction is superb and the unit is one of the smallest on the market.
As much as we like the EasyPhoto system it is not designed, nor would we recommend its use as an event photography solution. Event Photographers are better served with the Click Lite system or computer operated printers such as the CPD70DW and CP3800.