Mitsubishi CP9800DW
The Mitsubishi CP9800DW is a digital photo printer that can create a 4" x 6" print in just 8.7 seconds and 100 prints in 15 minutes. The CP9800DW is capable of printing a variety of sizes from 6″x4″ to a maximum print size of 6″x9″.
It was also produced in the CP9800DW-S System Printer variety (Red Fronted as opposed to Grey) for use solely with Mitsubishi's Click Lite, IT5000 Kiosk units and its PT9000 Mini Lab Systems (they cannot be used with a PC or Mac).
The DW (grey) and DW-S (red) varients use different media.
The Mitsubishi CP9800DW printer has now been discontinued. Check out our current models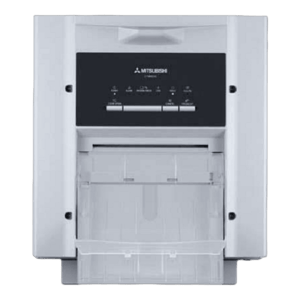 Photo Print Media for the Mitsubishi CP9800DW
---
About The Mitsubishi CP9800DW
---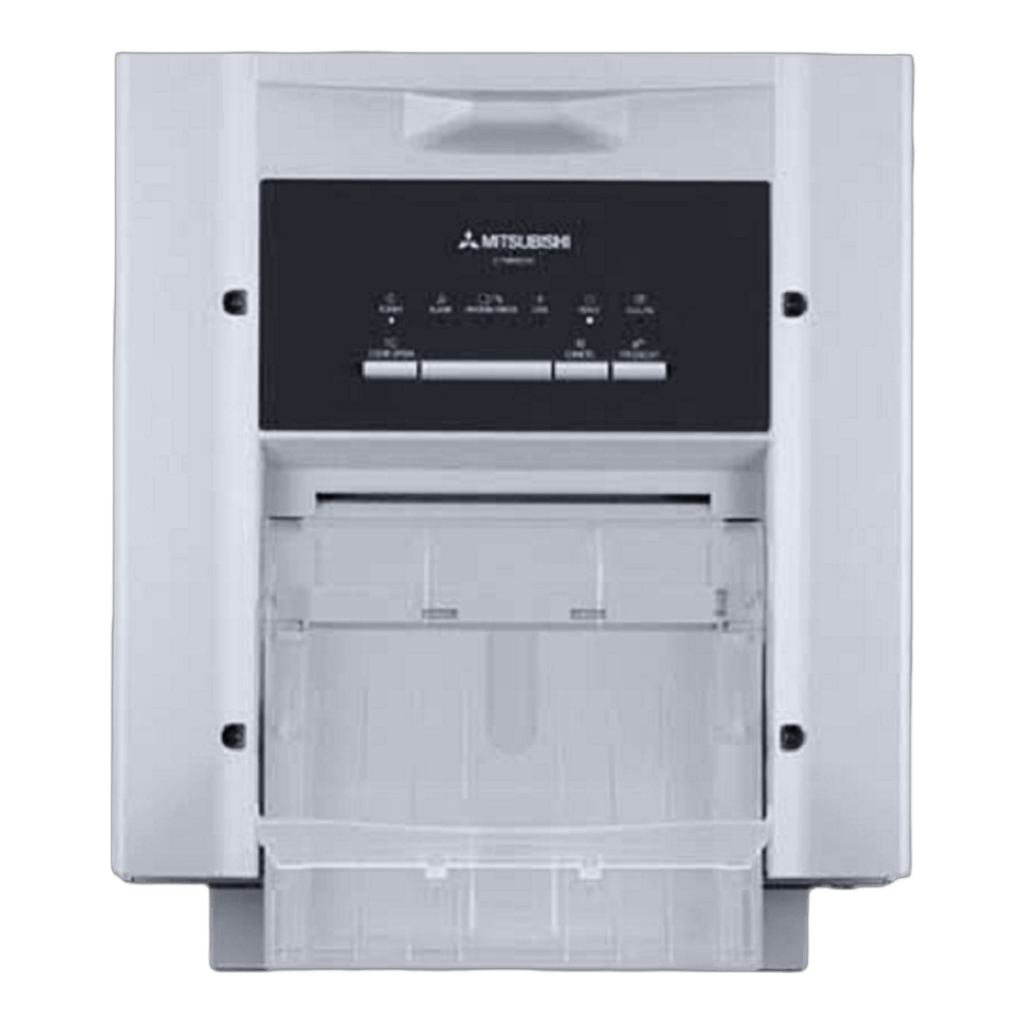 The High Volume, High Quality Mitsubishi CP9800DW Dye-Sublimation Photo Printer is a digital photo printer that can create a 4" x 6" print in just 8.7 seconds and 100 prints in 15 minutes.

The Mitsubishi CP9800DW offers high-grade picture quality at even faster output speeds, making the unit an even more powerful revenue-generator for professional photographers in the field, as well as photo retailers looking to cycle customers through the photo kiosk process more quickly.

Having optimised the thermal head pulse (the key factor in sublimation technology), Mitsubishi ensures high definition prints and the finest detail in image reproduction. The CP9800DW colour management engine technology is based on Mitsubishi's adaptive thermal-head management engine and features a 300 dpi high-density thermal head for clean, defined and consistent picture production.

In addition to superb performance, the CP9800DW also boasts greater versatility by offering four print sizes (3.5" x 5", 4" x 6", 5" x 7", and 6" x 9", as well as postcard media for the 4″ x 6" size) with edge-to-edge printing, all of which print at speeds faster than ever before.

A new protective covering on the head increases the head life considerably, while the use of a back-layer ink sheet diminishes the wear-rate. The high reliability and durability of the head is clear proof of the quality of Mitsubishi printers.

Building on Mitsubishi's established reputation for quality, dye sublimation, thermal transfer printing, the CP9800DW features a unique,
roll-type mechanism for jam-free reliability and a colour reproduction system developed specifically for digital printing technology.
This new technology utilizes built-in colour imaging chips to accurately control colour characteristics and deliver consistent print quality, regardless of ink sheet.
Mitsubishi CP9800DW Accesories & Flightcases
---
Mitsubishi CP9800DW Photo Gallery
---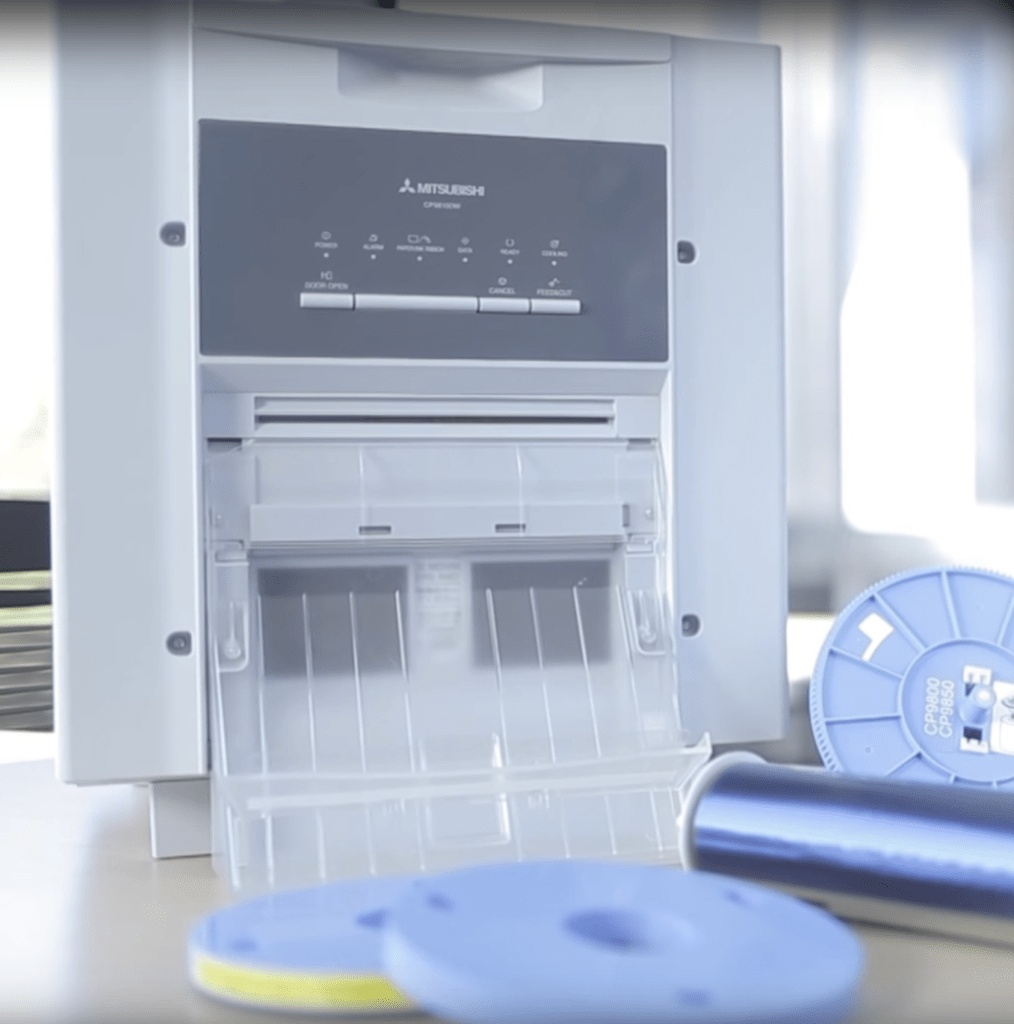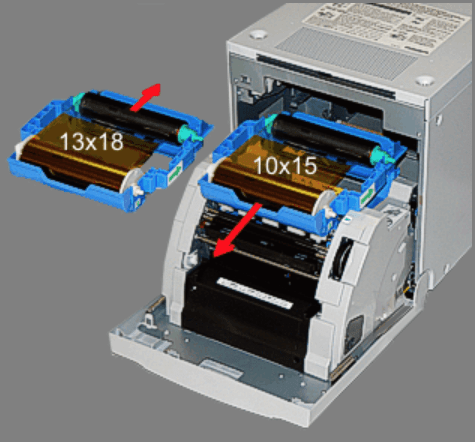 Printer Drivers, Manuals, Datasheets and Downloads for the Mitsubishi CP9800DW
---
Mitsubishi CP9800DW Specifications
---
Compatability
The Mitsubishi CP9800DW is compatible with both Windows & Mac
CP9800 Weight and Dimensions
The Mitsubishi CP9800DW weights 21kg. The dimensions of the CP9800 are 329mm x 404mm x 385mm
Additional Information
Incorporating a roll-type mechanism for jam-free reliability, the CP9800DW will provide continuous high quality performance. For greater versatility, the CP9800DW offers four different output sizes with edge-to-edge printing. Get the finest quality prints in a variety of sizes now faster than ever with the Mitsubishi CP9800DW.

Combining high-speed (8.7 seconds for 6″ x 4 " format), with a large capacity print roll, the CP9800DW results in maximum economy and value. Also, images can be stored in memory while printing with two 32 MB memory frames.
Quote from Mitsubishi in 2007
"The new CP9800DW is our most advanced photo printer to date with state-of-the-art technology in printer speed and accuracy. Not only does it produce a print quickly, it does so without any sacrifice to the resolution quality of the print.
Mitsubishi's new colour management engine ensures vivid images, deeper black tones and smear-free gradation with every print. The CP9800DW can produce 100 prints in just 15 minutes at a consistent printing speed. That high-speed output rate translates immediately and positively to the bottom line for any on-site event photographer or photo retailer".
CP9800DW Print Speeds
CP9800DW Print Sizes
3.5 x 5" prints in 8 seconds
4 x 6" prints in 8.7 seconds
5 x 7" prints in 16 seconds
6 x 9" prints in 19 seconds