There are 2 types of Chromakey Software you can use:
Darkroom (either Core or Professional, AKA Pro)
PhotoKey 8
 Darkroom Core
The Core edition is ideal for Emerging Professionals, Portrait, Event, Studio and Wedding Photographers who are seeking an end-to-end photography business solution. It enables you to:
Plug in to Quickbooks and Studio Plus for management, reporting and invoicing
Create limitless print packages
Create limitless digital packages including movies, slideshows, marketing packages and files set to music
Create print and digital proof products
Fulfil orders with built-in drivers for Windows printers
In addition, these advanced features are now available in Darkroom Core 9.2:
Shoot green screen with the industry's most lauded tools
Do advanced editing and re-touching (clone, burn, dodge, colorize and all other standard photo-editing tools, without opening or owning other software)
Use quick plug-in to Photoshop
Direct capture from the industry's leading digital cameras – via cable tether or wirelessly
Ability to make new graphic templates and alter built-in and downloadable product templates
Show customers presentations with two elaborate modes:
— Presentation for in-person presentations, including on projectors and
— Event for multi-screen presentation and rotation at on-site events
Darkroom Professional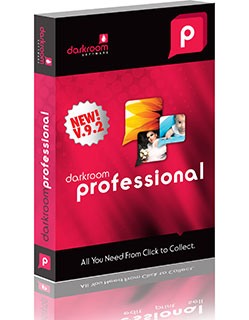 The Pro edition includes all of the features of Darkroom Core, plus you can have Darkroom on more than one computer, with Darkroom Pro acting as a server.
Darkroom Core and Professional can be purchased as either a download or in a 'dongle' version.
For more information about this product, please go to the Event Software page.
PhotoKey 8
This is green screen software for Macs and Windows PCs. It has a powerful batch processing system for replacing the green screen background of hundreds of images without you even needing to be at the computer.
The software also includes some royalty free images so you can experiment with different backgrounds without needing lots of practical backings or expensive locations.