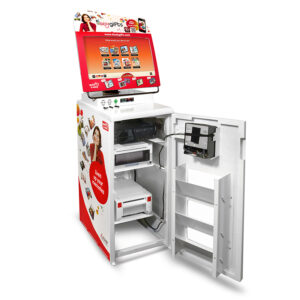 Photo Kiosks are usually used in a retail environment where the customer can choose his or her images and edit and print them. They create a good revenue stream for the business and bring customers into your store who may then purchase other goods and services.
We would always recommend discussing your specific needs with us prior to purchase to ensure you get the most suitable system. Our current Kiosk systems are listed below with links to the items in our online store for current pricing information.
The Mitusbishi Easyphoto Kiosk is our most popular Kiosk system and is available in three variations to suit different needs which are listed below. Additional items include a pedestal, ticket printer and wireless keyboard which can be used to make payment easier and also password-protect certain functions in the head-unit.