HiTi CS-200 Photo Card Printer
The HiTi CS-200 is a card printer especially designed to provide a professional yet user friendly card printing solution.
The CS-200 is a DOUBLE sided printer allowing two sided cards to be produced in one pass through the printer, with optional single sided printing.
With its compact size, HiTi CS-200 can be installed almost anywhere at any time to print high quality cards with just the click of a few buttons.
As well as business cards, applications of the printer include employee ID cards, VIP/membership cards, ticket passes etc.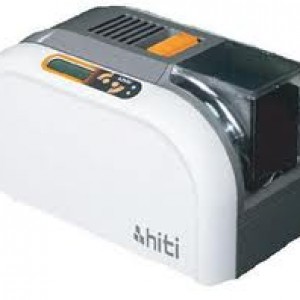 Image Quality and Colour Performance
As with all HiTi Photo Printers the quality is superb! With the ability to print 16.77 million true colours, it's no wonder that some professional photographers use HiTi photo printers instead of conventional photo labs!
By adding an all-new OEE II image processor, HiTi is leading the industry in providing 10-bit deep colour performance and unparalleled RGB levels. The exclusive HiTi colour technology and 10-bit colour engine create vibrant colours as well as natural and continuous tones, offering both professionals and amateurs the best colour output quality.
HiTi CS-200 Card Printer Media
The media and accessories listed below are suitable for the HiTi P510S Photo Printer.