How does Green Screen Photography work?
A photo is taken of the subject against a green screen (or blue or even grey!) and then, using our very own VEGA software the picture is merged with a pre-defined background to produce a superimposed photo that could show the customer in a situation that would usually be impossible to achieve.
Your clients could be walking on the moon, flying through the air or surfing the waves! With green screen (chromakey) photography, the possibilities are endless.
Photographs can also be merged with a foreground image (overlay) such as a logo or branding.
The solutions usually vary for each client, however, we pride ourselves on helping clients to select a comprehensive collection of suitable backgrounds. We can work with the client's existing photo libraries or provide Professional Photographic Services (at no charge) to obtain the desired backgrounds. Background popularity can then be monitored using the Statistics from VEGA to ensure revenue is maximised.
How realistic are the photos which are produced with Green Screens?
Judge for yourself! In the two images below, one has been taken with a real trophy and the other photo has had the trophy added using our VEGA green screen solution.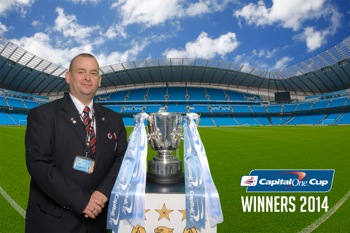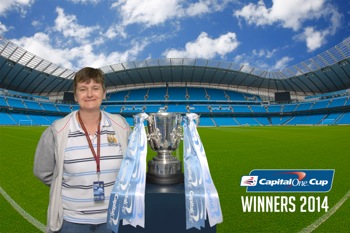 Can a foreground image be added?
Yes, it can be done automatically on some or all of the images produced. In the examples above the branding has been added in this way. This enables your brand to stay with the image when it is shared via social media or even if it's removed from its photo folder and framed.
How quickly are the backgrounds produced?
The background images are produced within seconds. At the London 2012 Games, we produced eight backgrounds automatically and they were available for the customer to view in under ten seconds. In fact, the client hadn't even arrived at the sales station which was 3 metres away by the time the images were ready to view and sell!
How easy is the Green Screen System to use?
It couldn't be easier! It's fully automatic and unlike other systems needs no operator intervention, which means superb photos every time with a speedy workflow.
Can the image be re-sized with different backgrounds?
Yes, the image can be moved and re-sized to fit each background. This is something we do for you automatically when any new backgrounds are added to your system.