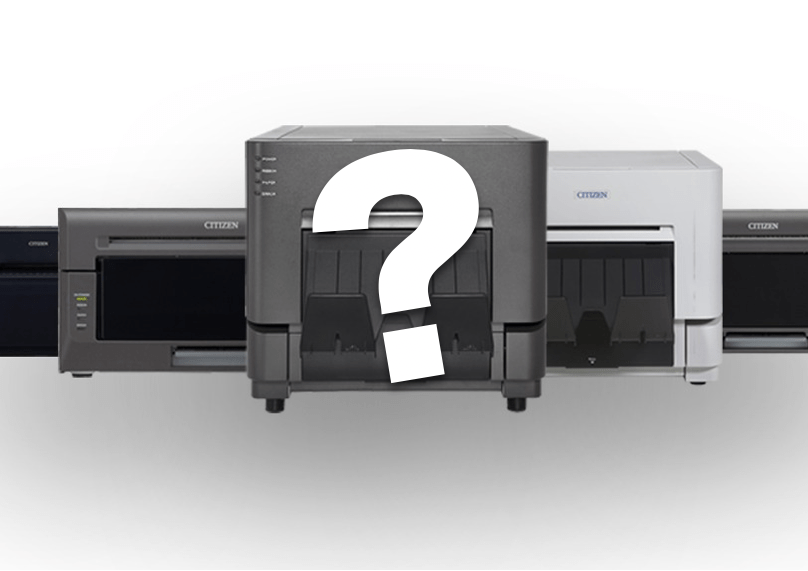 Choosing your Photo Printer
Not all photo printers are created equal and choosing your photo printer is an important decision. We have a wealth of experience as we use them ourselves so benefit from our experience.
What to consider when choosing your Photo Printer.
When purchasing a photo printer, considering all of its features becomes crucial in ensuring that you get the best value for your investment. A comprehensive evaluation of all aspects is essential to make an informed decision.
System Insight, with its extensive experience in the field of photography and printing, can be a reliable guide in this process. The company's profound understanding of the nuances of photo printing and its commitment to offering the latest technological solutions make it a go-to source for valuable insights. System Insight's expertise can help you navigate the complex landscape of photo printers, providing guidance on which features are most critical for your specific requirements.
Moreover, System Insight's understanding of the importance of connectivity options and their impact on workflow efficiency can assist in selecting a printer that seamlessly integrates into your existing setup. By considering factors such as wireless connectivity, common print sizes and many other features, we can help you choose a printer that fits perfectly iyour requirements. Additionally, the company's expertise in analyzing the long-term costs associated with consumables like print media and support can ensure that you select a printer that strikes a balance between performance and cost-effectiveness, saving you from unexpected expenses down the line. With System Insight's guidance, you can confidently invest in a photo printer that not only meets your current needs but also sets the foundation for your future printing endeavors.
---
Are you buying for Work or Home?
Any printer with the facility to offer Panoramic Prints will be able to print them on standard media, so no special media is needed for this functionality.
Print Size
Due to the way in which Dye Sublimation printer work the maximum print sizes are determined by the size of the printer and the media they use. Media is ually supplied in a roll which is either 4,5,6 or 8 inches wide and this is the maximum wide that the printer can print. The length of the print is determined by the media used and the size of the ribbon. Some printers have a panoramic feature which uses a clever technique to make larger prints.
Dye Sublimation Print Sizes explained.
Speed
The print process is the same as printing any other photo except that as the print is printed it doesn't get cut in the usual way until the whole Panoramic Print is produced.
Compatability
The print process is the same as printing any other photo except that as the print is printed it doesn't get cut in the usual way until the whole Panoramic Print is produced.
Features
The print process is the same as printing any other photo except that as the print is printed it doesn't get cut in the usual way until the whole Panoramic Print is produced.
Print Capacity
Depending upon the size of the print a Panoramic print would only be two or three times the cost of a single print as it would use twice or three times the amount of consumables.
Media Type
This depends on the printer and the drivers supplied. If you refer to the printer product information this should give you more details. Printer drivers are always under development.
Service and Support
Not all printers support this facility. A list of printers which can print Panoramic Prints is shown above.
Buying a photo printer for Home Use
Usually the main considerations when buying a photo printer for home use are cost followed by print size. Smaller dye sub printers which are ideal for home printing which just printed 6″x4″ photos (postcard size) have been around for years with models like the HiTi 630PS, HiTi Photoshuttle and the very popular HiTi 730PS which also printed 7×5 and 8×6 photos.
Recently Mitsubishi have launched a printer for less than £350! – This printer, the Mitsubishi M15E which is possibly the worlds least expensive professional dye sub printer, prints 6″x4″, 7″x5″ and 8″x6″ photos and is built to the same high standards as their other printers which are twice the price and it has the same high quality output as the rest of their professional range which are build using a metal construction and are known for being extremely reliable.
Buying a photo printer for Business
The main considerations when buying a photo printer for Business are detailed below. It is always worth looking at the "what we think" section of the product details of a printer for an unbiased view of what we think.
Print Size
Simply, what print sizes do you want to print? Double deck printers like the CP-D707DW can hold two different type of media whilst other printers have rollback technology which allows 6×4 and 6×8 from the same media. The W5000 is unique in that it offers a multitude of print sizes.
Print Capacity
This is the maximum number of prints the printer can print without having to change the media. Larger capacities are more beneficial for things like photo booths or theme parks. Double deck printers will hold twice as much media as a single deck model and if the media used is the same size then the second printer is automatically used when the first one runs out of media. The Mitsubishi M15e and M1e hold 375 8×6 prints or750 6×4 prints.
Features
Some printers have a panoramic function, some printers can print multi-strip prints or use postcard media, some even print double sided. If these features are important then check the printer specifications. It's also worth checking compatibility with your computer or operating system. It is now possible to print two different print sizes on the same media without wastage on printers using rollback technology. This enables the unused part of a ribbon when printing a 6×4 on 6×8 media to be used for future 6×4 prints following the printing of a 6×8 print.
Price
Whilst the price of the printer is important, so is the price of the media. They don't usually vary much but depending upon the quantities you will be printing it could add up. A good example of this is the Mitsubishi M1E and the M15E. They are both identical printers in operation but use different media as they are designed for slightly different markets. At the time of writing the media for the least expensive Mitsubishi M15E meant that you had to print over 5000 prints to justify the savings of buying a more expensive M1E. Take a look at this comparison between the M1E and the M15E. Mitsubishi system printers usually use lower cost media but cannot be used with a PC or Apple Mac.
Media Type
This might seem like a strange thing to choose a printer on although if you have existing printers or plan to buy more at a later date then holding a single stock of media would have advantages. Also worth checking media costs as well although always make a cost per print comparison and not a cost per box as different media may have a different number of prints per box.
Panoramic Photo Printers
Some Dye Sub Photo printers can print Panoramic Photos using standard media.
Citizen is the only manufacturer to offer Panoramic Prints on both 6 and 8 inch media printers. Panoramic Prints are only available via windows using Citizens Print Manager Software
The printers that are currently capable of printing panoramic photos are show here.