Dye Sub Photo Printers are not all created equal. There are a range of different features that are available and so there isn't one best printer but there is often a more suitable printer depending upon your requirements and budget.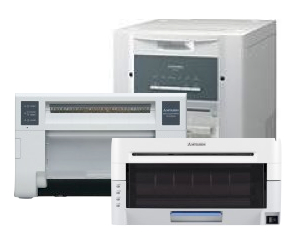 These high quality photo printers are used in the following areas:
The latest Dye Sub Photo Printers provide superb quality reproduction, with fixed print costs and a variety of Image Sizes.
Dye sublimation technology uses Dye Sublimation Print Media which is usually a roll of paper and dye sublimation ribbon, although some older systems use sheet fed paper.
Most printers can be used with either a Windows PC or an Apple Mac, though some are used solely with bespoke systems, such as the Mitsubishi Click System.
There are also some stand-alone printers which can be used without the need for a computer and some printers that can operate using WiFi!
Dye Sublimation Photo Printers are available from a number of different Manufacturers.
How to Choose your Printer – Our Free Guide
To make choosing your printer easier, we have created a FREE guide that you can download using this link.
There are different sections based on various important criteria:
NEW Photo Printers! The latest printers to be released.
Photo Printers sorted by Print Media Size. Different printers print on different sized media – choose your printer by the media size it uses.
Mitsubishi Click Systems – all-in-one units for Event Photography.
Stand Alone Photo Printers. Some printers can be used without a computer and although you may not think this is important, it can enable you to carry on using your printer if your laptop fails!
Wireless Capability. It is now possible to shoot straight to your printer using wireless technology!
Portable Photo Printers – for those who need to carry their printer around with them.
ID & Passport Photo Printers. Whilst almost all Dye Sub Printers will allow printing of ID and Passport Photos, these printers are especially designed for this task.
Kiosk and Retail Printers. If you want to provide a printing solution for customers in a retail environment, these printers are designed specifically for that purpose.
Event Photography for Profit Training Courses
Many Event Photographers use these Dye Sub Printers to provide a very profitable income stream from all sorts of events.  Being able to produce prints on-site at an event leads to more prints being sold, which, in turn, increases profits.
We offer Event Photography for Profit Training Courses to enable anyone interested in this profitable area to be proficient in just one day!
Our Pro Support Package
System Insight are well known for having extensive knowledge of Event Photography and Instant Print solutions and our Pro Support Package means that you not only get priority access to this help and support but also a wide range of additional benefits. This annual support package, which is available both during and after the warranty period of your equipment, will help you to get the best out of your equipment as well as giving you peace of mind. For more information on our Pro-Support Package, please click here.