The Mitsubishi W5000 is a single / double sized printer which can print on a multitude of print sizes and comes with a host of features.
Comes with 2 year's warranty or 100,000 prints!

Compact Design – allows easy transportation & installation in a reduced space. Perfect for Photo Booths and Events.
Compatibility – Windows and Mac Compatiblity
Fast Print Speed – 12 seconds
High Quality Results- beautifully vivid colours and deeper blacks than other models out in the market!
Smoother Definition – Text and images appear sharper
Outstanding Print Quality – Text and images appear sharper
Versatile – Gloss & Matte from the same paper
Multiple Print Sizes – 13 Different Print Sizes from one type of media. Prints 6×4, 6×6, 6×12, 6.8×4.8, 6.8×9.6, 7×5, 8×4, 8×6, 8×8, 8×10, 8×11, 8×11.7 and 8×12
What are the major benefits of the W5000?
The Mitsubishi CP-W5000DW is the first double sided photo printer whilst still allowing single sided prints. It can produce 6×4, 6×6, 6×12, 6.8×4.8, 6.8×9.6, 7×5, 8×4, 8×6, 8×8, 8×10, 8×11, 8×11.7 and 8×12. With these two new features, the Mitsubishi CP-W5000DW really is the next evolutionary step in the event photography world.
The CP-W5000DW also boasts quick double sided print speeds from 30 seconds and can allow you to produce multiple products such as calendars, greeting cards and photo albums. There is no special process or labour needed for producing both sides (no need for cutting and sticking) like traditional printing technology.
While being compact, the CP-W5000DW offers speed, large paper capacity an multiple print sizes, (a desktop workhorse). It comes with Mitsubishi Electric's one-of-a-kind paper path switching method, never before seen in a small-size duplex machine.

The CP-W5000DW is user friendly with a front display panel allowing you to easily check the status of the printer, remaining media, user notifications, etc. Paper can be easily changed in the same way as all of the other Mitsubishi Printers.
The CP-W5000DW is also great for retail as it offers many different sizes and the ability to produce photo books due to the duplex print. This really opens the doors for the retail market to produce products quickly and easily without the need for costly and time consuming labs.
The CP-W5000DW comes with a 2 year manufacturer's warranty, which is supported by System Insight as we are an Authorised Service Centre with trained Mitsubishi Technicians.
Print Media for the W5000 is available as:  CK5000 Paper Roll and PK5812 Ink Ribbon Kit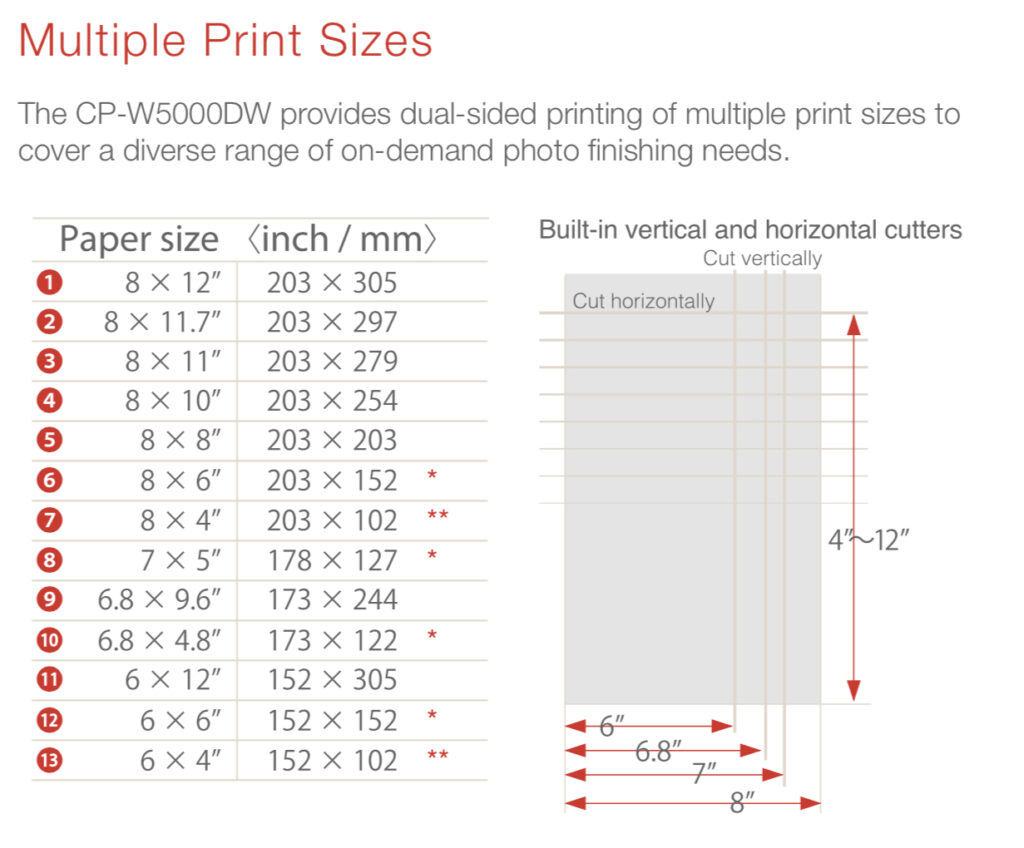 Mitsubishi W5000 Data Sheet - Product Overview ...