[vc_row][vc_column][vc_row_inner][vc_column_inner][vc_column_text css_animation="top-to-bottom"]The Mitsubishi K60, or CP-K60DW-S, is Mitsubishi's entry level 6″ dye sub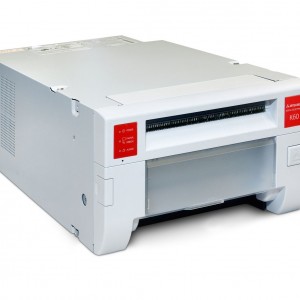 printer. Mitsubishi Electric's new CP-K60DW-S is a compact and lightweight dye sublimation printer that requires minimal installation space and incorporates the latest developments for the generation of high resolution prints. Additionally users can now produce two different print sizes from just one media.
The CP-K60DW-S also has some of the lowest running costs on the market as well as high print quality and demonstrates state-of-the-art rollback technology, which enables two print sizes to be produced from a single roll of media with absolutely no wastage!
The CP-K60DW-S has a compact and lightweight design, practically identical to the CP-D70DW & CP-D80DW. It measures 446 mm x 140 mm x 275 mm and weighs only 12kg.
Something new to bring to Event Photography world is square printing. The CP-K60DW is able to produce this style of print. Just load the 6×8″ media into the printer and you can print a 6×6″ square photo with a full bleed. Social media is becoming a pretty big trend among Event Photography including Instagram. You can even use software such as PS Events and PS Studio or how about Darkroom? If you are using Darkroom software, you can easily build an Instagram style layout to your requirements. Perfect for Event Photography, Albums, or Photo Booth templates.
This single deck printer can produce a 6×4″ image in 11.4 seconds and a 6×8″ image in 21.9 seconds. It has a print capacity of 640 6×4 images or 320 6×8″ images. Despite its compact design, the printer can hold up to 320 6×4 prints thus enabling high volume printing. This is one of the limitations as it doesn't hold as much as the CP-D70DW and CP-D80DW.

[/vc_column_text][/vc_column_inner][/vc_row_inner][vc_column_text][/vc_column_text][/vc_column][/vc_row][vc_row][vc_column][vc_column_text]The printer's ability to print gloss and matte from the same media with no additional cost makes it even more flexible. The CP-K60DW-S has the ability to produce 4 print sizes from the same media with rollback technology, including 6×2 strips. This additional feature, combined with the compact and front-loading/printing design, makes it ideal for retail, booths and event photography.
Mitsubishi have also introduced a new cooling system into their printers. This improved cooling system enables high volume printing whilst reducing the risks of overheating.
The CP-K60DW-S also has power saving technology which means the printer will go to sleep when you are not using it.
The Mitsubishi CP-K60DW-S is our most popular retail system as not only can it be used with the Mitsubishi Photo Kiosk but it can also be used with Windows and Mac.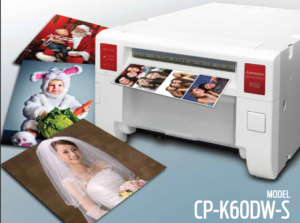 [/vc_column_text][vc_message message_box_color="sky"]
Quick Look at the CP-K60DW-S
Comes with 2 year's warranty or 100,000 prints!
Compatibility – Windows, Mac & Mitsubishi System Compatible
Media – 6 inch roll fed
Multiple Print Sizes – 6×4 & 8×6
Smoother Definition – Text and images appear sharper
Versatile – Gloss and Matte from the same paper
Lightweight Design – Weighs only 12kg
Fast – Prints a 6×4 image in 11.4 seconds!
Rollback – Prints 6×4 and 6×8 from the same media
Current Pricing – Mitsubishi CP-K60DW-S (links to our Webshop)
[/vc_message][/vc_column][/vc_row][vc_column][/vc_column]