The M15E OR the M1E – Which one?
At first glance, the only difference you be able to see between the M15E and the M1E, is the extra 5 Mitsubishi have added to the model number, and the colour of the open door handle, and well… you wouldn't be far wrong.
For all intents purposes, these two printers are the same. BUT there is one major difference, the consumable costs and knowing this will save you from buying the wrong one.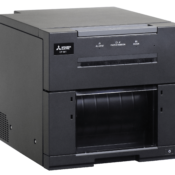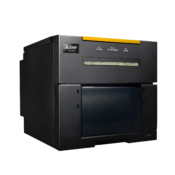 Yes that's right! Mitsubishi moved away from this style of pricing when they introduced the CP-D90DW. Now it has returned with the M1E and M15E. Except this time I think they've done everyone a favour.
Having printers which cost more to buy, but less to run is nothing new. Mitsubishi have done this in the past, to separate their retail printers, to the event printers.
The advantage this time is the cost of the printers, The M15E is only £349!
So It all comes down to how many prints you think you'll be doing, and that magic number is 5400. If you are going to be printing more than this, opt for the M1E. If you're going to print less than 5400, opt for the M15E.
How the Financial stack up
The Mitsubishi M1E is currently £570
A box of the 6×8 media is £61, which contains 375 Prints
So price per print is 16.3p
If you print 5400 prints it will cost you £880.20
Add on top of this the cost of the printer and your total spend is — £1450.20
The Mitsubishi M15E is currently £349
A box of the 6×8 media is £76.50, which contains 375 Prints
So price per print is 20.4p
If you print 5400 prints it will cost you £1101.60
Add on top of this the cost of the printer and your total spend is — £1450.60
Once you start printing more than 5400 prints, the M1E is going to be the cheaper option
*All prices correct as of 12th January 2021