Mitsubishi CP-D90DW-P
The CP-D90DW-P is the best printer Mitsubishi Electric has ever designed. Reliable, fast, multiformat which provides one of the best printing throughputs of the market.

The CP-D90DW-P is compatible with a wide range of media including Postcard and Perforatted media and is a very flexible printer.
The Mitsubishi CP-D90DW-P printer has now been discontinued.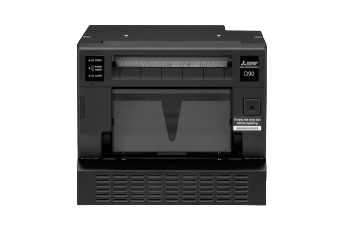 Photo Print Media for the Mitsubishi CP-D90DW-P
---
About The Mitsubishi CP-D90DW-P
---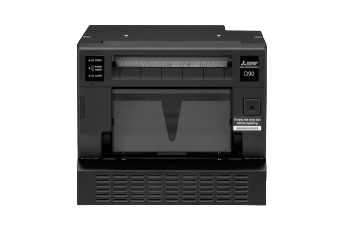 The CP-D90DW-P is ideal for environments that suffer a higher level of pollution or dust: it incorporates a separator design to distribute airflow separately to the power supply and the printing thermal head.The effective air cooling increases the throughput while reducing print contamination.
New Rewind function optimizes the 10x15cm (4×6") prints. When the last half part of the ribbon patch is not used in the last order it can be capable for next printing order of 10×15 (4×6"). Fine mode doesn't allow Rewind function.
Mitsubishi Photo printers are designed to reduce power consumption in sleep mode by up to 96% vs precedent printer generations. Standby power refers to the electric power consumed by electronic appliances while they are switched off or in a standby mode. Saves energy in sleep mode, reducing power consumption less than 1 watt.
The CP-D90DW-P has a very powerful flexibility of use thanks to multiformat capabilities from 5×15 – 15x20cm (4×6″ to 6×8″). , where you can combine many Media references from Mitsubishi Electric's range. Check the compatibility chart for more information.
With 7.8 seconds for 10x15cm (4×6″) printing and 430 prints per hour, its a powerful printer suitable for photobooth, events and many other applications on your photo business needs.
The CP-D90DW-P, with just 0.10m2 footprint is convenient for professionals who require Mitsubishi Electric´s high quality in the smallest and compact design which fits seamlessly into any installation space.


Mitsubishi CP-D90DW-P Accesories & Flightcases
---
Photos of the Mitsubishi CP-D90DW-P
---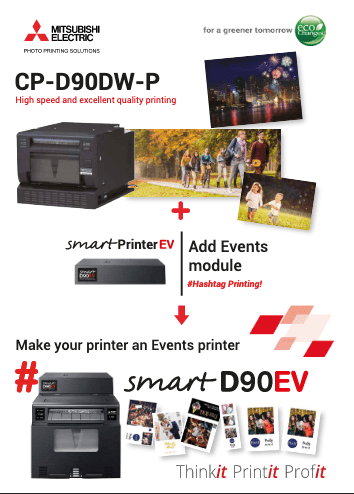 Video of the Mitsubishi CP-D90DW-P
Printer Drivers, Manuals, Datasheets and Downloads for the Mitsubishi CP-D90DW-P
---
Mitsubishi CP-D90DW-P Specifications
---