Mitsubishi CP-D70DW
The CP-D70DW is a compact and lightweight photo printer capable of printing 6×4, 7×5, 8×6 and 9×6 photos.

The CP-D70DW is the workhorse of many a photographer or theme park and is one of our best selling printers. Print Capacity of 400 6×4 photos. Two year warranty and PC and Mac compatible.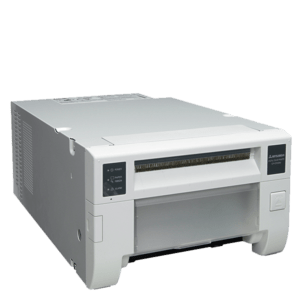 Photo Print Media for the Mitsubishi CP-D70DW
---
About The Mitsubishi CP-D70DW
---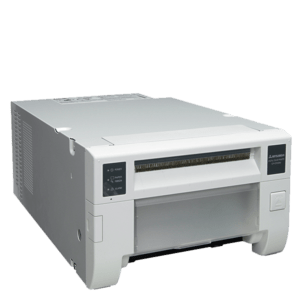 The Mitsubishi CP-D70DW incorporates newly developed image processing methods, making it possible to reproduce excellent true to life prints. The CP-D70DW uses a new image-processing algorithm that enhances natural image sharpness and clarity and brings out the best in event photographs. Making it possible to reproduce true to life prints. Fast, compact and producing superb lifelike colours, it's no wonder it's Mitsubishi's Flagship Event Printer.
It is one of the fastest event printers on the market – it can produce 6″x4 images within 8 seconds and has a print capacity of 400 images. The Mitsubishi CP-D70DW also benefits from a compact and lightweight design, with measurements of 446 mm x 140 mm x 275 mm and a weight of only 12kg. It takes up only 40% of the volume space of the previous CP9810DW printer. This single deck printer has some of the lowest running costs on the market as well as highest print quality and versatility.
Mitsubishi's CP-D70DW, full-featured event photo printer, is a quick, lightweight professional photo printer capable of Super Fine Matte finish prints, and Fine or Super Fine glossy photo prints with Mitsubishi's reputation for quality, reliability and efficiency.
The Mitsubishi CP-D70DW has a front loading construction so the media and ribbon can be easily and quickly replaced.
At System Insight, the Mitsubishi CP-D70DW is not only our best selling printer, but our sister company Image Insight also use them for their photographic solutions. This means that we know how reliable the CP-D70DW is first hand.
The D70 is also available in a double deck version CP-D707DW printer which combines two printers in one.
We used eight Mitsubishi CP-D70DW Printers at the London 2012 Olympic and Paralympic Games, producing over 66,000 prints without a fault!
Despite its compact design, the printer can hold a large quantity of paper thus enabling high volume printing. This event solution also produces prints with smoother definition so that text and images appear sharper and clearer. The printer's ability to print gloss and matte from the same media with no additional cost makes it even more flexible. The CP-D70DW has the ability to produce 5 print sizes from its 4 media choices, including 6″x2 strips on the 6″x4 media. This additional feature, combined with the compact and front-loading/printing design. Makes these printers ideal for booths and event photography.
Mitsubishi CP-D70DW Accesories & Flightcases
---
Flight cases can also be purchased for the CP-D70DW to reduce the risk of physical damage. Our flight cases have been designed to allow the printers to work whilst inside. This ensures the printer is fully protected and, due to the positions of the vents, the printer will not overheat. The Mitsubishi CP-D70DW also has power saving technology, which means it will go to sleep while you are not using it.
The printer's efficiency is increased with a unique cooling system that helps regulate the temperature of the print head and the internal power supply. And the CP-D70DW has a built-in energy saving mode which reduces power consumption to less than 1 watt.
Photos of the Mitsubishi CP-D70DW
---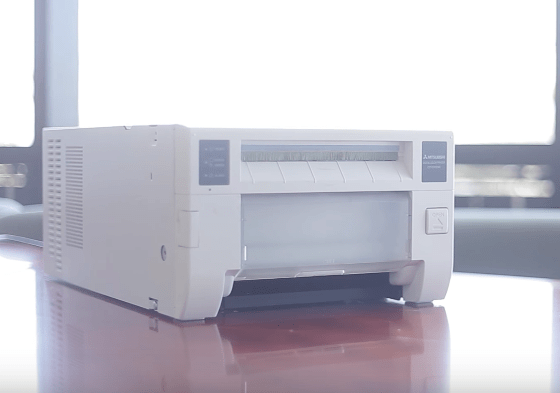 Video of the Mitsubishi CP-D70DW
Printer Drivers, Manuals, Datasheets and Downloads for the Mitsubishi CP-D70DW
---
Mitsubishi CP-D70DW Specifications
---
Compatability
The Mitsubishi CP-D70DW is compatible with both Windows & Mac
CP-D70DW Weight and Dimensions
12kg (26.5lb.)
275 / 446 / 170 mm
CP-D70DW Print Speeds
10×15, 152×102 mm / 8.4 sec
13×18, 127×178 mm /12.7 sec
15×20, 152×203 mm /14.5 sec
15×23, 152×230 mm /15.9 sec
CP-D70DW Print Sizes
10×15, 152×102 mm
13×18, 127×178 mm
15×20, 152×203 mm
15×23, 152×230 mm