Mitsubishi CP-9550DW Photo Printer
Introducing the high volume, high quality, Mitsubishi CP-9550DW dye sublimation photo printer! The CP-9550DW is the replacement for the CP-9500DW Photo Printer and offers a faster printing speed due to its new dual line head.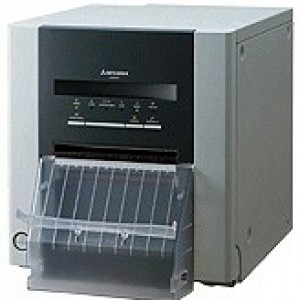 To keep pace with the rapid advancements of digital cameras and mobile camera phones, the demand for higher performance digital photo printers has increased. With the CP-9550DW, Mitsubishi Electric has unveiled their new, innovative, dual line technology, further enhancing the high grade and detail which are the hallmarks of dye-sublimation printers. These digital photo printers have been designed for commercial use and produce beautiful, photo-quality prints.
Building on Mitsubishi's established reputation for quality, dye sublimation, thermal transfer printing, the CP-9550DW features a unique, roll-type mechanism for jam-free reliability and a colour reproduction system developed specifically for digital printing technology. This new technology utilizes built-in colour imaging chips to accurately control colour characteristics and deliver consistent print quality, regardless of ink sheet. A 346 dpi thermal head further enhances print quality at superior resolutions.
The versatile CP-9550DW provides a selection of 3.5 x 5", 4 x 6", 5 x 7" or 6 x 9" print formats, as well as postcard media for the 4 x 6" size. Combining high-speed (17 seconds for 3.5 x 5" format), along with a large capacity print roll, the CP-9550DW results in maximum economy and value. In addition, images can be stored in memory while printing with two 32 MB memory frames.
Dual Line Technology: Smoother and Sharper Picture Quality
Dual line heads are newly adopted on this printer to improve head resolution. Compared to the previous model, printing occurs on two head elements for each dot. This results in stunning images with even greater detail and texture. For example: a standard dye-sublimation printer will have a single heater line on its printer head generating an image equivalent to 304 DPI. The dual heater line incorporated in the CP-9550DW photo printer can double the original 346 DPI output to the equivalent of 692 DPI, providing a much sharper picture.
Large Capacity Roll Paper to Reduce Running Costs
These new digital colour printers are eco-friendly, using coreless, large capacity rolls of paper giving up to 600 prints on 4″ x 6″ media.