Mitsubishi CP9550DW
The CP-9550DW is the replacement for the CP-9500DW Photo Printer and offers a faster printing speed due to its new dual line head. To keep pace with the rapid advancements of digital cameras and mobile camera phones, the demand for higher performance digital photo printers has increased. With the CP-9550DW, Mitsubishi Electric has unveiled their new, innovative, dual line technology, further enhancing the high grade and detail which are the hallmarks of dye-sublimation printers. These digital photo printers have been designed for commercial use and produce beautiful, photo-quality prints.
The Mitsubishi CP9550DW printer has now been discontinued. Check out our current models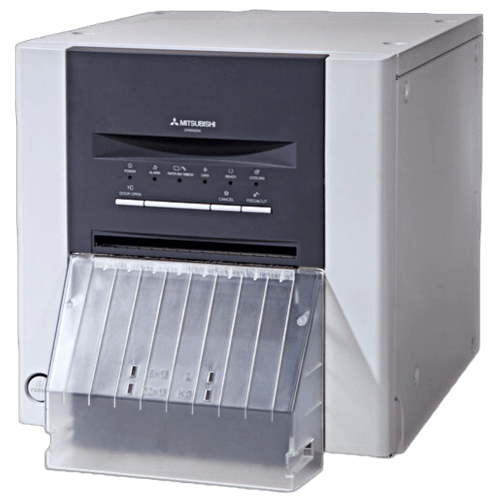 Photo Print Media for the Mitsubishi CP9550DW
---
About The Mitsubishi CP9550DW
---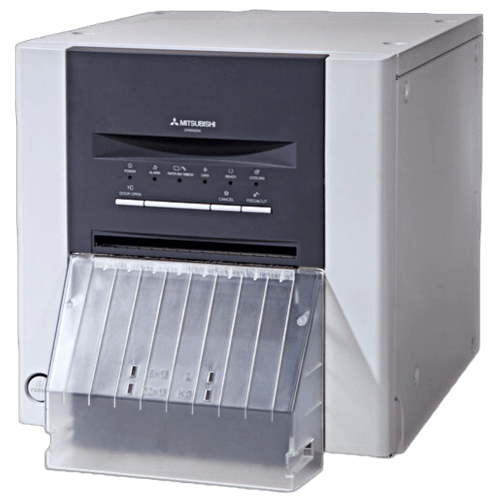 It has Full colour bleed to edge photographs are produced in a matter of seconds from the CP9550DW.
The high capacity print roll (600 prints per roll for 4"x6" size) helps to keep the cost per print down as well as increasing the autonomy of the printer.
Building on Mitsubishi's established reputation for quality, dye sublimation, thermal transfer printing, the CP-9550DW features a unique, roll-type mechanism for jam-free reliability and a colour reproduction system developed specifically for digital printing technology. This new technology utilizes built-in colour imaging chips to accurately control colour characteristics and deliver consistent print quality, regardless of ink sheet. A 346 dpi thermal head further enhances print quality at superior resolutions.
Mitsubishi CP9550DW Accesories & Flightcases
---
Photos of the Mitsubishi CP9550DW
---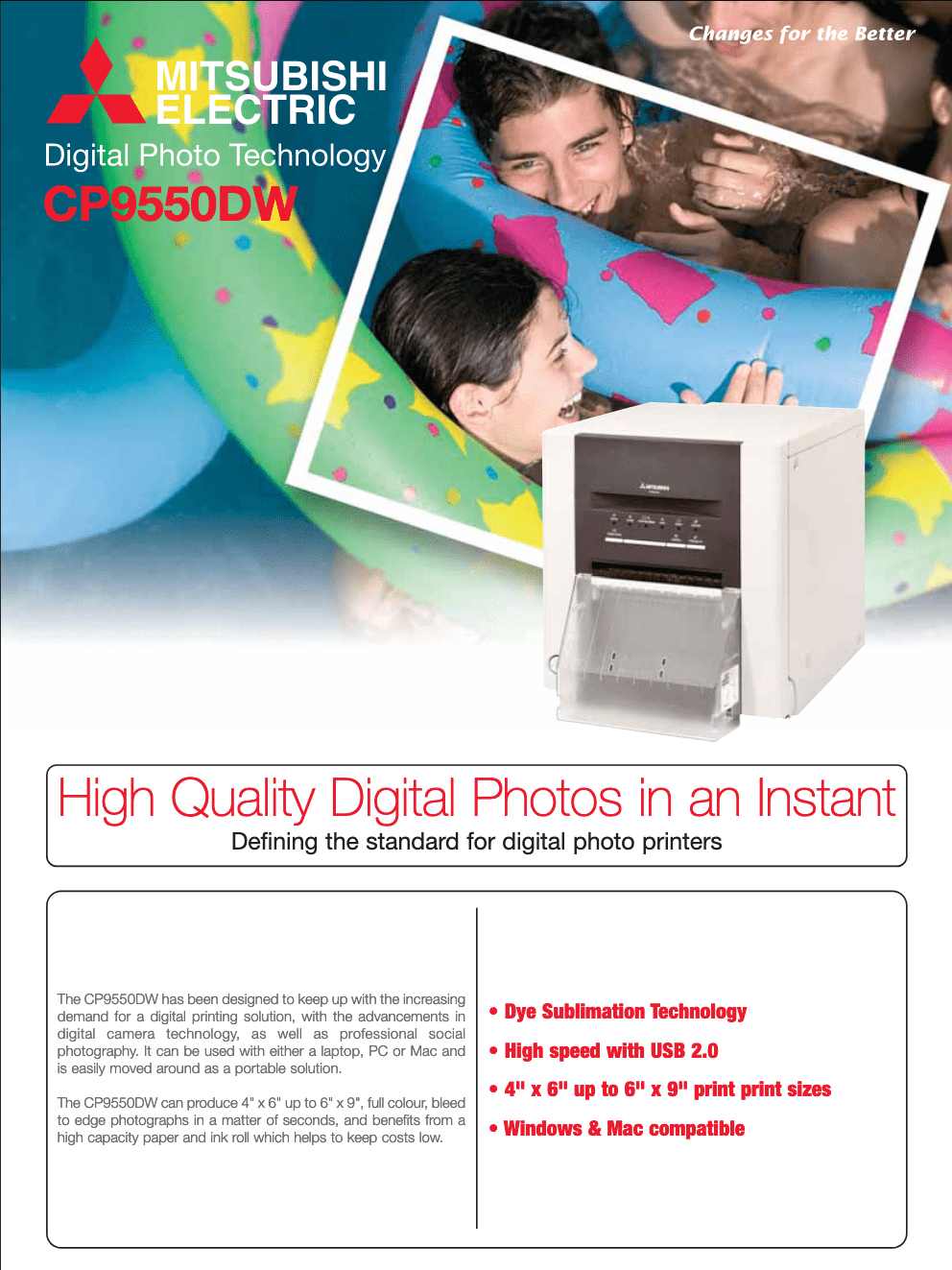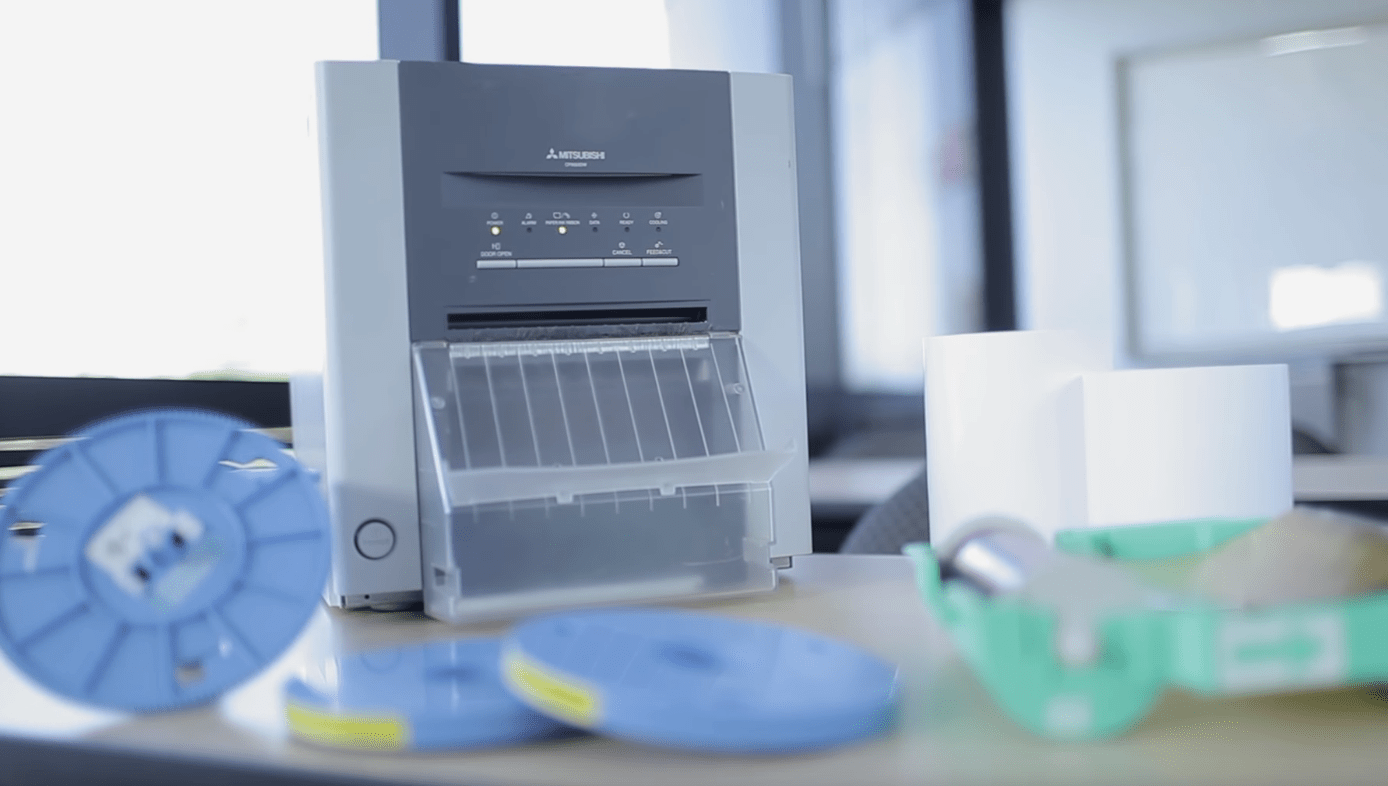 Video of the Mitsubishi CP9550DW
Printer Drivers, Manuals, Datasheets and Downloads for the Mitsubishi CP9550DW
---
Mitsubishi CP9550DW Specifications
---
Compatability
The Mitsubishi CP95500DW is compatible with both Windows & Mac
CP9550DW Weight and Dimensions
Approx. 37.4 lbs. (17Kg)(excluding accessories)
300(W) x 365(D) x 325(H) mm
CP9550DW Print Speeds
9×13 (3.5×5") : Approx. 15 sec./sheet (Super Fine mode : Approx. 27 sec./sheet)
10×15 (4×6") : Approx. 16 sec./sheet (Super Fine mode : Approx. 29 sec./sheet)
13×18 (5×7") : Approx. 25 sec./sheet (Super Fine mode : Approx. 47 sec./sheet)
15×20 (6×8") : Approx. 29 sec./sheet (Super Fine mode : Approx. 55 sec./sheet)
15×23 (6×9") : Approx. 30 sec./sheet (Super Fine mode : Approx. 58 sec./sheet)
CP9550DW Print Sizes
9×13 (3.5×5") 89 x 127mm (without frame)
10×15 (4×6") 102 x 152mm (without frame)
13×18 (5×7") 127 x 178mm (without frame)
15×20 (6×8") 152 x 203mm (without frame)
15×23 (6×9") 152 x 229mm (without frame)