Mitsubishi CP-9800DW-S
CP-9800DW-S is System Photo Printer from Mitsubishi.
The version -S is supplied as a "system printer" – it means it can only be used with a Mitsubishi Kiosk or Click 5000 system.
Media is not the same as the standard Grey fronted -DW printers.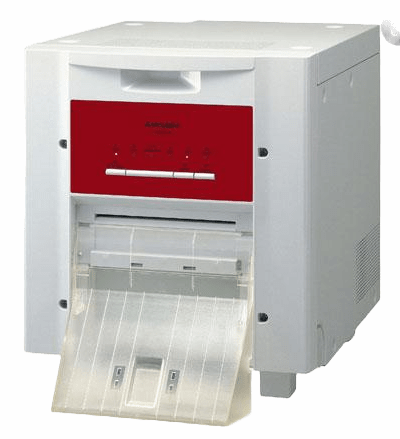 Photo Print Media for the Mitsubishi CP-9800DW-S
---
About The Mitsubishi CP-9800DW-S
---
Speed has nothing to do with trickery – it's all about having the right technology.
The Mitsubishi CP9800DW-S dye-sublimation printer, which can be combined with Click and Kiosk systems for digital image delivery, is an excellent example.

Its sophisticated technology can produce color prints at a resolution of 300 dpi at a constant rate of one every 8 seconds – including lamination.
That means over 100 photos in just a quarter of an hour! And you can rest assured that no compromises have been made in terms of quality and image definition.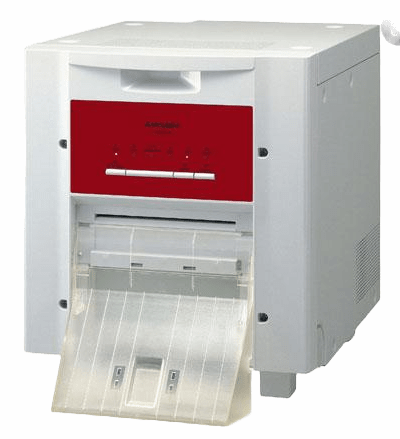 Thanks to Mitsubishi's Adaptive Thermal-Head Management Engine it can faithfully reproduce even the minutest details. A protective film has been added to extend the life of the thermal heads, and a special coating on the rear of the ink sheet roll reduces wear and tear on moving parts.
In short, the CP9800DW-S not only operates at top speed, it also has excellent staying power.
HIGHLIGHTS
• Exceptionally high print speed
(standard format 10 x 15 cm in 8.7 seconds)
• Resolution: 300 dpi
• Greater color depth on high grade paper
• Mitsubishi Adaptive Thermal-Head Management (MAM)
• 5 print formats (10 x 15 up to 15 x 23 cm)
• Can be integrated into Click and Kiosk systems
• Extremely durable due to low-wear operation
Mitsubishi CP-9800DW-S Accesories & Flightcases
---
Mitsubishi CP-9800DW-S Specifications
---

Compatability
The Mitsubishi CP-9800DW-S can only be used on a Mitsubishi kiosk system, NOT on a PC or MAC.
Weight and Dimensions
approx. 21 kg
3approx. 329 x 383 x 404 mm (incl. bottom legs)
Print Size & Speeds
127×89 mm / 8 sec

152×102 mm / 8 sec

127×178 mm / 16 sec

152×203 mm / 18 sec

152×229 mm / 19 sec