HiTi Kiosk Terminals are designed to provide a complete photo gift solution for retailers, offering instant prints, ID photos and unique photo gift products. Examples of these include, Bookmarks, Posters and even Frame Photos. You can even print out images from your favourite social media sites including Facebook and Instagram.
Print sizes include 6×4″, 6×8″ upto 8×12″ with both matte and gloss finishing options to choose from.
With the integrated gift modules, customers can easily edit their photos and produce a range of photo gift products including, frames, greeting cards and much much more. Plus Customers have the option to print ID Photos
The HiTi Kiosks are compatible with a range of our HiTi printers including; P750L, P910L and the P525L.
Feel free to call us for full product details on 01329 835500 or use our Livechat facility.
HiTi Photo Kiosks
HiTi Mars 12 Multimedia Photo Kiosk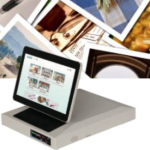 HiTi Mars 11.6″ Multimedia Photo Kiosk is the perfect solution for shops, malls, events and much, much more. It is in fact an photo order station. Customers can quickly and easily upload their images through their chosen media (whether this is through an SD Card or USB Flash Drive example or anything else). Images are then transferred to the Mars 12″ Multimedia Kiosk, for example a memory card is docked into the station. Customers can then choose which photos to print and in which format. For example, an SD Memory card is connected, 15 images are selected and print in a 6×8″ format -perfect for an photo album. Easy as 1,2,3!
HiTi Mini Kiosk
The HiTi Mini Kiosk is made up of the P525L and the Mars 12. This will enable you to print wirelessly as well. It has the fantastic combination of the Mars 12 and the Libra 220 and also enables you print images from Facebook and Instagram.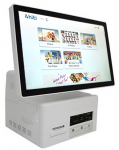 HiTi Libra 220 – 21.5″ Multimedia Photo Kiosk Terminal
Ways to make the Libra 220 Kiosk work just for you, is the ability to personalise your print. You can create custom frames that are loaded into the device's memory and are there to use on the printed photos. Let's say that you want a company logo in the lower right corner because you are hired as a photographer for the company's event. The photographer takes a picture, and on the printed photo, the logo is down in the corner. You simply choose to include the custom frame in the printout. Then just print.
Social Media and HiTi Kiosks
We are happy to post pictures on Instagram and Facebook and share our joy. but, we don't always print them.And of course there is nothing wrong with that.  We want to show our friends and relatives what we've been to. We still simply love to photograph. But it is also, we like to capture and keep the moment. This is another reason why photobooths are perfect for weddings, so you can keep the memory alive an stored forever.
The expensive smartphone can be dropped in the water, it can be stolen or any other accident happens that makes the images unavailable. Instagram, is there for sure about 20 years? Much can happen, and the memories we want to keep can unfortunately disappear at any time. HiTi March 12 multimedia kiosk solves the problem. Embedded in the system there are features for printing images – instantly from Instagram and Facebook. Argurably, Real-life images are much more secure in a photo album there at home than in an uncertain cyberspace.
Here are a few different ways to an set up your  Hiti Kiosks and order stations: