[vc_row bg_type="no_bg" fullwidth="no"][vc_column][vc_row_inner][vc_column_inner][vc_column_text]The HiTi P910L is their first ever 8″ Dye-Sub Colour Roll Type Photo Printer.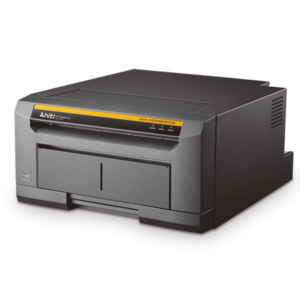 It permits quick and efficient printing on roll media in multiple sizes up to 8 x 12″. Two separate media types enable printing up to 120 8 x 10″ photos or 100 8 x 12″ photos per roll, with the ability to print 2 or 3 up for print sizes as small as 8 x 4″ and the option to output either glossy or matte prints. The printer accepts one roll of media at a time, which utilizes a YMCO ribbon for a vivid, rich, print quality and a marked reduction in the likelihood of paper jams.
The P910L will work with Windows and Mac computers.
Perhaps comparable with the Mitsubishi CP3800DW, the HiTi P910L has a lightweight design at only 13.5kg, which is only a few kgs heavier than a 6″ printer. This allows it to be easily transported from event to event. The P910L offers a real alternative choice in the 8″ dye sub world as the print quality is fantastic, producing very natural prints.
Enlarge your studio and event photo business with XL photos
The compact and lightweight P910L Photo Printer not only enables highly mobile, but also gives you the ability to print 8 inch photos
The printer combines premium quality images and high speed with more options on print out size from 8 x4 and up to 8×12
The printer can produce high-quality photo in 35 seconds with guarantees
jam-free
[/vc_column_text][vc_message message_box_color="sky"]
Quick Look at the P910L
Compatibility – Windows and Mac Compatible
Multiple Print Sizes – 10×8 and 12×8
Smoother Definition – Text and images appear sharper
Versatile – Gloss and Matte from the same paper
Lightweight Design – Weighs only 13.6kg
Compact Size – Only slightly bigger than a 6″ printer
Print Sizes- 8×10″, 8×12″, 8×4″, 8×6″, 8×8″, 8×10″, 8×12″
Current Pricing –  Current Pricing for HiTi P910L (links to our Webshop)
[/vc_message][/vc_column_inner][/vc_row_inner][/vc_column][/vc_row][vc_row][vc_column][vc_column_text]

The HiTi P910L is competitively priced being one of the lowest priced 8″ printers on the market. However, this price does not reflect the quality of the printer.
Having already produced a wide range of printers from 6″ dye subs, ID & passport and retail printers, HiTi have now developed and produced the P910L as their first 8″ event printer.
As Hiti specialise in instant printers, you can rely on their expertise to produce a printer which meets the needs of the consumer. They have certainly achieved this in the HiTi P910L![/vc_column_text][/vc_column][vc_column][vc_message message_box_color="juicy_pink"]
[/vc_message][/vc_column][/vc_row][vc_row][vc_column][/vc_column][/vc_row][vc_row][vc_column][/vc_column][/vc_row]