Perforated  Media is an exciting new type of consumable for use with Mitsubishi Photo printers.  The main benefit is that the finished print can be separated easily to create Polaroid and Instagram style prints whilst retaining a part of the print as a voucher to promote your brand or event.
It is a fantastic way of marketing your brand as the customer receives their fantastic souvenir along with your discount voucher, logo and branding. There a multitude of options that can be created with this new media.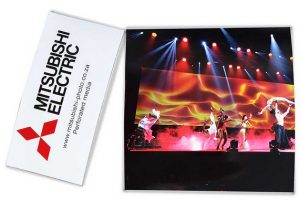 Mitsubishi also supply postcard print media and now a sticker media for their photo printers. In fact they supply the largest range of consumables for any Dye Sub Photo Printer and are constantly adding to the range of products.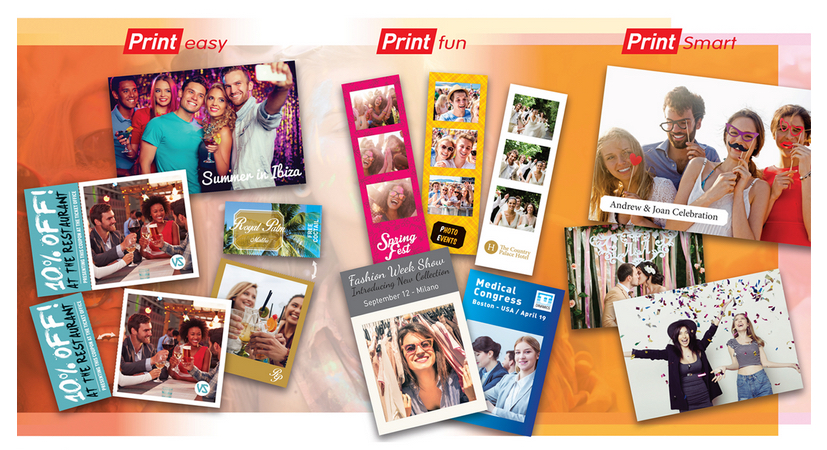 This exciting new media comes in two varieties which are shown below and allow different benefits depending upon the type of product you are aiming to create. This media can be used in anumber of Mitsubishi printers including photo booths etc although is best suited for the new Smart D90EV.
This media is perforated halfway down the media meaning that a 6×4 print can be separated into two exact smaller prints as shown below. This media is compatible with the D70DW, D707DW and D90 Series. It will not work with the DW-S models (Red Fronted).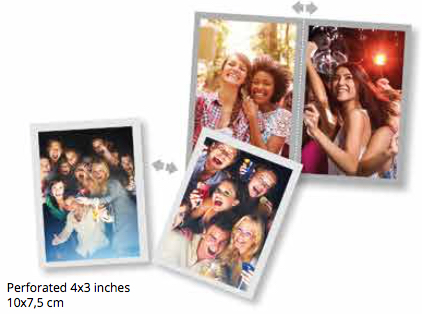 CK-715-PF42 / CK-746-PF42
The CK-715-PF42 and CK-746-PF42 are also 6×4 media and have the perforation placed so that a 4×4 and a 2×4 print can be created. The CK715-PF42 is compatible with the D70DW-S (red fronted) and the D90. The CK746-PF42 works with the CP-D70DW and CP-D90 series.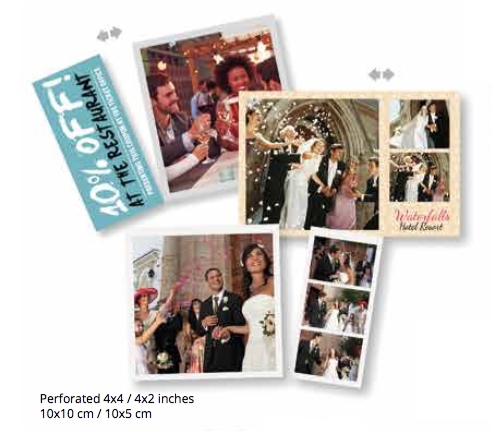 As you can see above the main differences between the media types is the position of the perforations which allows different types of print products to be created. These media types work very well with the Smart D90EV Printer and are ideal for use at events and functions and weddings.
The possibilities of the different types of products you can create are endless and setup is easy with the Smart D90EV
When to use Perforated Media
An example you could use the Perforated Media for is Weddings. You may be a Wedding Photographer or you might not but, being able to offer instant prints at a wedding reception is a fantastic way to make money. It is easy to do and is hassle free. A great way to do this, is to set up the Smart D90-EV with one of your chosen perforated media and allow guests to simply print their own photos throughout the night. All guests need to is to connect to the printer using, the Smart D90EV app using their phone or wi-fi enabled camera and click print. Instant printing has become social.
Why not offer a guestbook service, where guests get to keep the 4×2″ image print and place the 4×4″ image into the guestbook. That way everyone gets to keep fantastic photos of the night. Or why not set up a studio and offer a photography and print service similar to a photobooth. Either way, the perforated media lets you bring something unique to the event. Perforated media helps really bring hashtags, selfies and social media to the event.
Mitsubishi Smart D90-EV & Perforated Media
In line with the Mitsubishi Smart D90-EV,  you will be able to offer photo printing services/ selfies of the guests during events. Your guest will be able to connect themselves to the Smart Events in HotSpot Printer mode, and with only opening the browser, they will be able to print their own Selfies photos Strips, Polaroid, etc.
Perforated Media isn't just restricted to Weddings, in fact the possibilities are endless! You can use the media for Corporate events, Proms, Parties/ Black Tie events, Celebrations, Charities, Sports and much much more!
Perforated Media is compatible with a variety of different printers as shown below. You can quickly easily create templates for any kind of event with Darkroom Core event photography software or use it withe the Smart D90EV printer either way this enables you to create unique and stunning products for your customer.