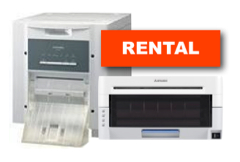 Although Hiring a Dye Sublimation Printer from us is a simple process you are bound to have some questions.
We have listed the most common ones below although if you need more information then take a look at How the Rental Process works, or contact us about hiring your printer.
Don't forget that we rent a wide range of equipment and if your are looking at a long term rental then you might find that leasing your photo printer or equipment is a better option.
Thinking about buying a printer? Why not Rent-to Buy? Rent a printer & if, within 30 days of returning it, you decide to buy one from us, we'll give you 50% of the rental price you paid OFF your new printer! You may even be able to buy the printer you've rented!
Frequently Asked Questions
If your question is not answered here then contact us and we'll be more than happy to help.
What equipment do you rent?
We rent a wide range of equipment including dye sublimation photo printers, kiosks, cameras and most of the equipment we sell.
For a list of photo printer equipment we rent on a regular basis then look at What Photo printers do we hire?, if you don't see what you need then just call us and we will be able to help you.
What is the minimum Hire Period?
The minimum hire period is one week however our prices for a week are usually what others charge for a day!
The reason for this is that we always suggest you get the equipment a few days beforehand to familiarise yourself with it and as people usually hire over a weekend, you then have time to get it back to us. So in effect you only pay for a few days but get the benefit of the equipment for much longer without paying for it.
Does the rental come with a flightcase?
Our rentals do not come with a flight case as standard however, you do have the option to add a flight case to your rental for a minimum weekly charge of £40.00 ex vat. All of our flight cases are custom made giving you the option to print whilst your printer is stored in it's case. Protecting your printer whilst it prints.  Our printers are normally sent out in their standard packaging.
What are the print costs?
Rental print costs can vary depending on the size you wish to print, the rental print costs (based on the size) are as follows:
6″x4 – 21p
5″x7 – 42p
6″x8 – 46p
6″x9 – 50p
8″x10 – 90p
8″x 12 – 90p
(All prices excluding VAT)
What if I need support?
If you need help or support with the equipment you have rented from us, simply give our office a call. You will be able to speak to one of our Technicians. Our office is open 9.00 – 17:30 Monday-Friday. One of the reasons why our minimum rental period is a week is so you get the chance to familiarise yourself with it before your event thus avoiding costly issues with the equipment out of hours when support is not available.
Can I be supplied mounts/ other equipment as a rental products?
Certainly! Mounts do not come typically with the printer rental. You can rent the mounts as an additional add-on. If you have purchased mounts along with your rental and have unopened boxes at the end, providing they are still fit for purpose, we would be happy to offer full refunds on any full unopenedboxes sent back. We also rent out numerous other equipment too, just ask!
What if I need to use my equipment outside?
If your event is being held outside and there's no easy access to a power source, we would recommend using a generator to power your equipment. The generator needs to have enough power for all of your equipment, so check the power. You will also need a UPS to help support the generator. For more information, read our generator page.

Do I need to insure the Printer?
The person renting the equipment is responsible for it during the entire rental period and must ensure it is insured during this time.
Can I rent a full solution?
Yes you can! We have supplied a number of full event photo solutions over the years, some on a small scale and some on a large scale.
Just let us know what you need and we will find a full solution that suits you!
When do I get my deposit back?
We aim to refund your remaining deposit within 10 days of the printer being returned to us.
Why do you take a deposit?
We take an upfront deposit to cover the cost of the printer in the unlikely event that it is damaged whilst in your care.  Your card however, will not be charged until the day of despatch.
When is the latest I can book a rental?
We have been known to supply a rental printer within 24 hours of someone's event.(Although we don't recommend this). If you would like us to despatch a printer within 48 hours of your confirming the rental order ﴾as per the terms and conditions) there is a £50 surcharge applicable.
Can I specify delivery and collection times?
Interlink Express are able to provide a 1 hour time slot of your delivery. They will text this information to you in the morning of your delivery day as long as you provide us with a mobile phone number.
On the day your printer is due for collection, Interlink Express may or may not contact you via text message. Their hours of collection are 8:30am and 6pm, a time window is not provided for collection.
What if my printer doesn't work when it gets here?
We have Mitsubishi and HiTi trained technicians in our offices Monday to Friday 9am – 17:30 who are available for advice and support for the duration of your rental. They can offer help on installation issues such as drivers, setting the printer up and software or any other queries you may have about operating the printer. We strongly recommend you contact them with any questions (no matter how trivial) to ensure you attend your event with confidence.
What if my printer is damaged in transit?
If your goods are damaged in transit, there is usually noticeable damage on the outside of the box, especially with printers. Even if there is no visible damage, you must always test your goods immediately as you need to notify us within 24 hours if there are any problems with or damage to your order.
How do I look after my printer?
Remove media when transporting the printer.
Use the original printer's packaging when transporting the printer for full protection.
Remove snips from waste box
Switch the printer on as soon as you get to your event to warm it up and this will avoid printer jams and condensation.
What workflow should I use at my event?
Great Question! We have a wealth of knowledge in Event Photography. We have almost 26 years experience in the industry and we use the equipment that we sell and rent. For more information regarding the workflow why not attend one of our  Event Photography for Profit Training Courses. Give us a call today!

Why should I use a Dye Sub Printer at my event?
Dye sublimation printers are designed for use at events and attractions where a high quality instant photo is required. Their speed, capacity and instantly touch-dry finish make them ideal for a multitude of scenarios.
How much media comes with the printer?
As much as you like! You only pay for the media you use, so you don't have to worry about opened boxes of media that you'll never use. This means you can return opened media packs and you'll only be charged for what you have used!
What comes with the rental printer?
We ensure you get everything you need with the printer. All printers are supplied with a 5 metre power cable and a 5 meter USB cable. You do however need to tell us what media you need with the printer and how much you are likely to require. Additional media can be supplied later, however a small carriage charge will be made.
What happens if I have equipment failure?
Our technical staff are on hand Monday – Friday, 9:00am – 5:30pm, to answer any questions you may have. If you have a faulty product and notify us by 3:00pm, we will ship you another unit to be delivered next working day. Note: We cannot be held responsible for any consequential loss arising from equipment failure and recommend that you either insure against this, or rent an additional unit as a back up.
What is the cost of a second printer?
If you rent two printers at the same time then the second printer rental is charged at the lower additional weekly price. If your requirement is for a backup printer then contact us for more details.