Renting a Dye Sub Photo Printer
Why Rent a Photo Printer?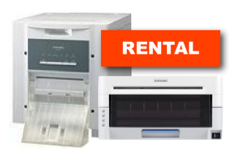 Often, renting as photo printer makes perfect sense if you are new to a particular type of event and are unsure how a piece of equipment will perform. You have the ideal opportunity to try the equipment at a live event and make money without having to purchase expensive equipment.
Rental is also very useful for existing customers, who are doing a large event and need extra equipment and so can just rent what they need without expensive capital outlay.
If you're new to Event Photography, renting a printer can be a great way to 'test the waters', reducing the initial financial expenditure which comes with setting up a new business. Renting costs a fraction of the price of purchasing and although we find that the first few events are more for finding your feet, renting a printer can still give you a really good idea of whether or not on-site printing is for you.
We also have a great Rent-to-Buy Deal (see below), so you can save even more money and really use renting to your advantage!
We rent almost everything we sell, which currently includes most of the photo printers and systems available today. For more information regarding our Rentals please read our Terms and Conditions.
We also offer leasing which keeps down your initial expenditure and is 100% tax deductible in nearly all cases. You also have the option of owning the equipment at the end of the lease. Or another option is Rent-To-Buy, try before you buy and buy the printer that you have used at your event.
Main Advantages of Renting a Photo Printer from Us
Only pay for the media you use! – No expensive rolls or packs of media to buy and find you don't use. Pay for what you need.
Flexibility – We can offer rentals at the very last minute.
Low Costs – Our weekly rates are often cheaper than other companies daily rates!
Purchase Option – 50% rebate on equipment hire if similar product is purchased after rental period (within 30 days).
Everything you need – Everything is supplied (cables, manuals, profiles etc)