About Chromakey (Green Screen) Photography
Chromakey or Green Screen Photography as it's often referred to is the ability to take a photo against a (usually Green) background and replace the green background with one or many different backgrounds to allow the subject to appear as if they are in a different location or situations
Useful Information: Greenscreen Software – Chromakey Explained – Greenscreen Training
How does Green Screen Photography work?
A photo is taken of the subject against a green screen (or blue or even grey!) and then, using Chromakey Software the picture is merged with a pre-defined background or backgrounds to produce a superimposed photo that could show the customer in a situation that would usually be impossible to achieve.
Your clients could be walking on the moon, flying through the air or surfing the waves! With green screen (chromakey) photography, the possibilities are endless.
Photographs can also be merged with a foreground image (overlay) such as a logo or branding.
We have extensive knowledge of using Chromakey photography in a wide range of settings and situations and can advise you what the best solutions would be to match your requirements.
How realistic are the photos which are produced with Green Screen Photography?
Judge for yourself! In the two images below, one has been taken with a real trophy and the other photo has had the trophy added using our VEGA green screen solution.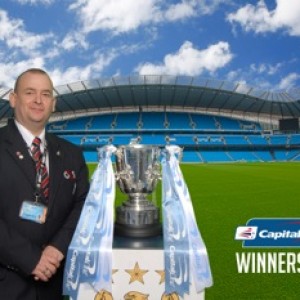 Can't tell? The one on the right is the Greenscreen photo where the cup has been added.
How does Chromakey Photography work?
Photos are taken of the subject against a (usually) green or blue background and then the background is automatically replaced with another, pre-produced image. Multiple background images can be available, allowing for a wide variety of images to be created at the touch of a button. This enables customers to obtain high quality photos of themselves and their families in all sorts of possible settings, which they would not normally be able to obtain.
What do I need to add Chromakey Photography to my event solution?
You will need: A green backdrop, Correct lighting, Software, Knowledge / training. We can help with the supply of these key items and even train you on there use.
Chromakey Software
There's no doubt that advancements in green screen software such as Darkroom and Photokey, have contributed to increasing the popularity of this type of photography. There is really only one trick with Chromakey Photography and that is to get your lighting correct; the software will do the rest. So, getting the right software is essential to make your event run smoothly and efficiently.
Our most popular Chromakey software is Darkroom. This is the software we use at our events, due to its wide range of features and simple, quick workflow. Darkroom also comes with 1 year of support as standard, with no extra charge.
Chromakey Photography Training
We recommend training in order to take full advantage of all the features your software has to offer.
System Insight runs a Chromakey Photography Training Course which covers both the practical side and also the marketing. It's critical to know which events Chromakey will work with and which ones it won't and how to market it effectively. Proper promotion at the right event can double your selling capacity!
We, at System Insight, are extremely experienced and have been very successful using Green Screen Technology. We are always pleased to advise photographers who are looking to expand into this area. So, please contact us if you would like any further information.