Ten Top Tips when buying a Photo Printer
At System Insight, we know how much you have to consider before buying a printer. Even when you know what type of printer you need and the price range you're looking at, there are so many other factors to consider. As experts in Instant Photo  Photography, with over 25 years' experience of advising customers and experience using the equipment ourselves, we understand how confusing it can be, so, we have put together this handy guide: 10 Top Tips on Buying a Printer.
1) Buy from a Retailer rather than a Wholesaler
It's a little known fact that buying from a wholesaler or trade supplier offers you significantly fewer legal rights compared to buying from a retailer. In the UK, buying from a retailer gives you the comfort of knowing that you have full redress through the sale of good act should things go wrong.
System Insight is a retailer and has been approved by Trading Standards for over 10 years with an impeccable record. We ensure our customers are fully aware of the product or service they are buying and we deliver what we say we will deliver. You can read more about our links with the Trading Standards' Buy With Confidence Scheme here.
2) Will you get Effective After-Sales Service and Support?
We've all bought things only to find that when something goes wrong we can't get through on the after-sales line. And then, when we finally do get through, we have to speak to someone who hasn't got a clue about the product!
Well, at System Insight we do things rather differently. We know how important a working printer is to you so we offer 3 different support options designed to meet your needs. But that's not all. Not only are we established experts with over 25 years' successful experience, we are also unique in our industry as we actually use the products we sell on a daily basis! So, we really KNOW our products! This means that you are guaranteed to be able to get the help you need.
3) Ensure the Supplier is an Authorised Reseller and Service Centre
Just because a supplier is selling a printer, doesn't mean that they are authorised to do so by the manufacturer. On the other hand, System Insight are an Authorised Reseller & Service Centre for Mitsubishi and HiTi printers.
Being an Authorised Reseller means that we sell genuine products and are able to offer our customers informed support throughout the sales process and after-sales. This includes a formal, recognised warranty from the manufacturer.
Being an Authorised Service Centre means that we can honour the manufacturer's warranty and most (if not all) of your repairs will be done in-house. This is really important when you rely on your printer for your income – in-house repairs are much quicker which means you will be without your printer for a much shorter period of time. This compares significantly to situations in which suppliers have to send printers overseas to the manufacturer. In those cases, delays can run into weeks, which can be very costly for customers.
At System Insight, we manage our repairs in-house so they can often be carried out much quicker than other supplier who don't repair in house and have to send back to a manufacturer who is often overseas. Our quickest repair was 10 mins and we can sometimes fix equipment while you wait or the same day.
4) Does your Reseller have a Walk-in Service?
If your printer goes wrong, can you take it back to them?
System Insight customers enjoy a personal service and can contact us any time to arrange to bring their printer in.
Our quality service = your peace of mind.
5) How Easy is it to get New Media?
Buying a brand which has multiple dealers in the UK (who all deal directly with the manufacturer), means that you will always be able to replenish your media supply.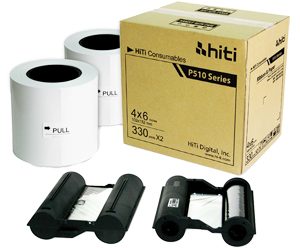 Buying new media can be an issue when buying discontinued models – printers which are on sale or seem to be a real bargain may not be entirely what they seem and we would caution against buying printers from unknown sellers on auction sites or other similar dealers. Are the media and drivers still available? What reassurances do you have? Always check that you will be able to buy affordable print media throughout the life of your printer.
Remember: a printer without media earns nothing!
At System Insight, we sell printers where the print media is typically produced for at least 5 years after the associated printer model has been discontinued. In fact, the HiTi 600 series media has been available for 14 years and is STILL available! We also pride ourselves on always providing our customers with honest and comprehensive information regarding our products so that you can be fully informed before committing yourself.
6) Consider your Operating System and Printer Drivers
Ensure the printer works with your operating system (eg. Windows or Mac) and that the printer manufacturer has a proven record of providing drivers* and updates in a timely fashion.
*Printer drivers are essential software which your computer needs in order to print from a specific printer. They may already be on your computer or you might need to download and/or install them. Without the proper drivers, your printer just won't work. (As an aside, this can also be an issue when it comes to updating your operating system – always check that the manufacturer has released the appropriate drivers before updating your OS.)
At System Insight, we make it easy both to download drivers and to contact us for any information. And, because we use these printers ourselves, we know what makes them tick so can give you genuine, expert advice regarding your purchase.
7) Buy an Ex-Demo or Ex-Rental Printer… with a Warranty
For the financially savvy amongst us, buying an ex-demo or ex-rental printer can be a really good option. These are premium printers which are available at significant price r
eductions after being used (often quite briefly) for demo or rental purposes. They really can be a great option for anyone on a budget, people starting out in business or for those needing that essential back-up printer. But, you do need to make sure they come with a good warranty so you don't get caught out.
At System Insight, you have the reassurance of knowing that all of our ex-demo and ex-rental printers have been fully tested and come with 3 months' ProSupport, our advanced technical support package.
8) Ensure the Brand is Well Supported in the UK
If you buy from a company which is the only reseller in the UK, you will have limited options regarding after-sales support and you could run into difficulties should you no longer be able to deal with that company for any reason.
On the other hand, buying a product or brand which has multiple "approved" resellers gives you more options as a buyer, ensuring you can go to multiple sources if you wish.
System Insight is an Official Reseller for Mitsubishi and HiTi in the UK and we pride ourselves on our after-sales support.
9) Ensure the Printer will Print the Sizes you Require
The type of event or photography you do will determine which print sizes are appropriate for your customers. Knowing the print size you want is a key factor in choosing a printer.
At first, it may seem logical to purchase the printer that produces the largest sizes or the widest variety of sizes. However, this may not be the most cost-effective solution or provide the easiest workflow for your specific needs. We find that the most popular size across all events is 6"x9". But, it's important that you decide the size(s) you will be printing the majority of the time.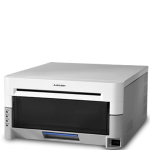 If your intended events require the larger print sizes, a printer such as the Mitsubishi CP3800DW is ideal as it gives you the option to print two 6"x8" prints on 12"x8" media, should this ever be needed. But, don't forget that you will still be incurring the cost of the larger print size, even if you only print a single 6"x8", so this is not an all-in-one solution if you also wish to print the smaller sizes. A larger scale printer is only suitable when you will only be printing in either of the two larger sizes. For photographers who wish to print in a variety of sizes, the purchase of two printers is essential to give you both flexibility and a back-up printer, should the worst happen.
Finally, it is worth noting that the ability to print two 6"x2" on a 6"x4" or two 6"x8" on a 12"x8" etc are all options within your printer's driver (see point 6 for more on this). These can vary between operating systems (Mac and Windows). So, before you buy, remember to check that your particular computer set-up will give you the print options you want.
10) Buy an Established Brand
Quite simply, buying an established brand gives you peace of mind. By its very nature, an established brand has proven business methods which have stood the test of time. The people involved know that all aspects of the business, including its history, technical research, quality production, product knowledge and customer service, are key to their brand's identity and they know that the good reputation of their brand is paramount to their continued success. This all serves to reassure you, the customer.
At System Insight, we not only sell and work with established brands, like Mitsubishi and HiTi, we ARE an established brand! With 25 years' established expertise in the industry and many repeat customers, why go anywhere else?