Shipping and Courier Information
We ship daily around the UK and often to the rest of the world. The following information describes our processes for deliveries and collections.
Delivery cut off times.
Delivery outside the UK
Damages and Returns
Sending Equipment to us.
Collections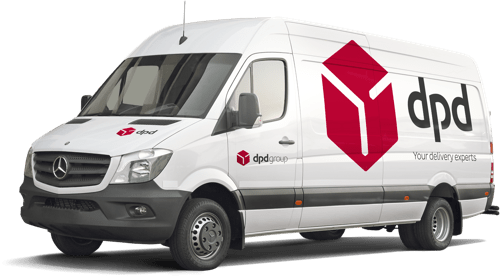 We currently use DPD for all of our outgoing goods within the UK and we can also arrange collection of goods via DPD. We use a variety of delivery methods for outside the UK. If you are returning goods to us for repair then you are welcome to use your own courier if you wish.

When shipping printers and high value goods with DPD, our shipping costs include the insurance for that item.
Here is some information regarding our shipping procedures:
New customers: For new customers, the first order must be sent to the address the credit or debit card is registered to. Subsequent orders may be shipped to alternative addresses, if required.
The cut-off time for next-day delivery is 3.00pm. Any orders received after this time (not the time you input the order) will be dispatched on the next working day.
Shipping address: We can ship to almost any address in the world, subject to any restrictions that may apply for shipping to international destinations.
For delivery outside the UK: When you place an order, we will estimate shipping and delivery dates for you based on the products ordered. Shipping quotes are based on weight and size per consignment. We will email you with a shipping quote once we have received the price from the couriers.
Product weights: The weight of any item can be found on its detail page. To reflect the policies of the shipping companies we use, all weights will be rounded up.
Receiving damaged items: You have up to 24 hours to claim for damaged goods received from the courier. If we are informed of any damage more than 24 hours after delivery, we may not exchange or refund for the damaged items and we may not be able to claim from the courier. Please note that we use a 3rd party courier. Please check all goods when they are delivered and check all packaging before you sign for the courier. If your goods are damaged in transit, there is usually noticeable damage on the outside of the box, especially with printers. Even if there is no damage, you must always test your goods as soon as possible as we are unable to rectify any problems outside of office hours and we need to be informed of any damage to your order within 24 hours to be able to make a claim. If you do not tell us within this time, then any refund or replacement may be delayed or invalid. If you are unsure of possible damage to goods in transit, always photograph the goods as you receive/unpack them as this helps with any damage claims. If you do not tell us within 24 hours then any refund or replacement may be delayed or invalid.
How to Package & Return Items to us
When returning items to us, it is vital that you read and follow the instructions below prior to the scheduled collection, as failure to package items correctly can invalidate any claim for damage that occurs in transit.
You must package your equipment inside its original packaging, ie. the cardboard box and any polystyrene inserts.
If you do not have the original packaging then please use a large 'tough' box and plenty of bubble wrap. If using bubble wrap to protect your equipment, you must not be able to see or touch the equipment through the bubble wrap as this is the minimum protection required to prevent damage in transit. We cannot guarantee damage will not occur but the more bubble wrap you use, the better. If the equipment does not have this level of protection, any claim for damage may be invalid due to improper/insufficient packaging.
DO NOT ship your printer with paper or ribbon left inside. Please ship all media separately. You are not charged for shipping multiple boxes. Spindles, spacers and ribbon trays can be transported within the printer when empty. If paper is left within the printer, any damage caused to the internal mechanisms of the printer or its chassis are at your own cost. Please be aware that damage to the chassis often causes the printer to be written off and worthless and failing to remove paper in transit is at your own risk/cost.
DO NOT include any cables with your printer. We are not to be held responsible for loss of any cables that are sent to us.
It is of utmost importance that your printer does not have any media left inside and is packaged correctly, we cannot stress this enough.
If you have any concerns about packaging your equipment for transit or collection, please do not hesitate to contact us.
Same-day Collections
The cut-off time for requesting same-day collections is 10:00am. Any collection requested after this time will be arranged for the next working day. We cannot specify the time at which the collection will take place and it can be anytime from 8.30am-6pm Monday-Friday. If you miss your collection or the item is not collected as per the agreed schedule, you may be charged for another collection.