Unique! – Authorised Service Centre and Resellers in the UK
As well as supporting you through the purchase of your equipment and helping you with any ongoing support issues along the way, we realise that the ability to have your printer serviced and repaired is essential. Especially if you rely on it for your business.
System Insight have over 25 years experience in the industry. Not only this, we have had our technicians specially trained by both Mitsubishi and HiTi. We are an Authorised Service Centre and Reseller and our sister company Image Insight uses these printers itself.
As an Authorised Service Centre for the major manufacturers we have direct access to a library of service manuals, technical documents, software, spare parts information and training materials, and have all the necessary specialist equipment and knowledge which is needed to maintain and repair your equipment. System Insight is able to cover the manufacturer's warranty to ensure that you receive the best service we can provide. Unlike other companies, if a printer develops a fault, you simply return it to us and we'll repair it. Typically, this will significantly reduce the amount of time you are without a printer. Take advantage of our Pro Support package and we will even loan you a printer free of charge.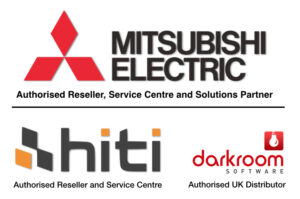 Our highly qualified technicians are trained, managed and supported by the manufacturers. Our technicians have direct access to support direct from the manufacturers. You can expect the best possible service including rapid response and unrivaled technical expertise for complete peace of mind.
We keep a large number of spares in stock which ensures your repair is quick and efficient. Meaning that, you aren't waiting weeks for your equipment to be repaired.
Did you know: A large number of companies who advertise certain products are NOT authorised by the manufacturer and therefore do not have direct access to spare and technical information. They usually buy through a third party which means any warranty repairs may have to go back to the original purchaser (often in another country) before going back to the original source.
By buying from us ensures you benefit from our ability to perform warranty repairs at our offices unlike many other suppliers.