Most modern printers use roll fed, dye sub, print media, which usually comes in two different widths namely 6 and 8 inch wide. A printer that takes 8 inch wide media is capable of printing photos which are eight inches wide. Therefore, usually, these printers can print either 10×8 or 12×8.
These print sizes are a finished size and do not need any cutting or trimming, unlike other printers, e.g. Inkjet or Laser printers.
The most common size of print media is 6 inch wide print media.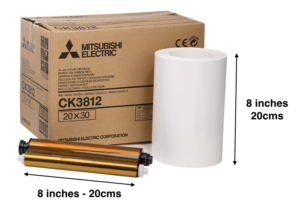 8 inch printers are great for sporting events because there is more demand at these events for larger sized prints. These sized printers are also used in retail, for example, the
Mitsubishi W5000DW
can print up to 13 sizes and it can print double-sided. Studios are another good place for the larger printers as you can print the photos there and then instead of the client having to wait for their photo at a later date – this helps to increase revenue. Also, as the prints are a larger size, you can charge more for them, which is another revenue booster.