HiTi's S420 ID & Passport Photo Printer
HiTi's S420 ID & Passport Photo printer is the ideal compact stand alone unit which can be used with almost any digital camera.  It can also be used on its own or it can be connected to a Windows or Mac computer.
Exclusive LinkPrint Direct Printing Technology
HiTi's S420 is embedded with LinkPrint technology which offers a connection interface linking HiTi BS-iD400 and various storage devices. This includes flash memory cards, USB storage drives, digital cameras or USB compatible storage devices such as USB hard drive devices.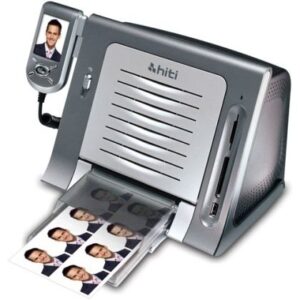 Embedded ID Formats Selection *
With a wide range of embedded ID formats, HiTi S420 offers you a total solution for all your ID photo printing needs. In addition, free bundled software, IDesiree 2.0, gives you unbeatable flexibility in ID format designs to satisfy the ID photo market demand worldwide.
* Accessible embedded ID formats may vary from region to region.
2.5 inch TFT LCD Window
The TFT LCD window, together with multi-language menus and graphical interface, simplifies the operation without the need for a PC. With this 2.5 inch LCD controller, all operations from capturing images to printing ID photos become second nature.
Colour and Grey Scale Printing
HiTi's S420 is capable of printing both colour (YMCO) and grey scale (KO) photo in 256 levels of colour to achieve a total of 16.77 million colours.
Magic Coating Technology
HiTi's dedicated colour ribbons come with exclusive Magic Coating technology. Since, the Magic Coating technology  lays a protective and transparent coating layer over the photo once the colour sublimation process is complete. Additionally, HiTi's Magic Coating is water, UV-ray, fingerprint and smear resistant. The technology also provides an optional watermark function, which can be customized to personalize photos or used as a counterfeit protection.
Lightening-Fast OEE Digital Image Processor
Furthermore, HiTi's S420 utilizes an ingenious OEE digital image processor, together with a revolutionary algorithm and powerful image processing engine. It offers outstanding digital image output quality. HiTi S420 series has a intuitive user interface, superb all around performance in JPEG image processing, colour enhancement and comprehensive image editing options.
Can be used almost anywhere
The S420 can be used almost anywhere that there is a 12v supply. This makes it an ideal, portable unit.
Use an optional 12v-240v inverter.
New and Improved Consumables
HiTi photo printer S series use the exclusive new generation dye-sublimation consumables for improved colour reproduction, image quality, and faster printing speed. New colour ribbon formula advances the colour characteristics and the new photo paper base enhances the image brightness. A transparent resin layer (Magic Coating) protects the photo against water, UV-ray, fingerprint, smear, oxidization and colour fading.
World Leading Output Quality
Utilizing HiTi Classic ColorTM technology, HiTi Digital Photo Printers have won DIMA shoot-out awards 4 times in 5 years for their outstanding quality and exceptional performance.
The media and accessories listed below are suitable for the HiTi S420 photo printer.