The Mitsubishi D90 and Smart D90EV are very capable printers with a wealth of features.
We have included some of the more commonly asked questions about these printers below. If you require any further information, require a demonstration then contact us and we will be able to help you.
Smart D90EV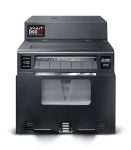 Can the standard D90 printer be upgraded to a Smart D90EV?
Yes, The original Smart D90 can be upgraded to a Smart D90EV with the Smart D90 Upgrade Kit. You may need to upgrade your D90's firmware before using the upgrade kit. We are able to offer this service on a while you wait basis if you'd rather we did this for you.
Afterwards your printer would behave exactly like a Smart D90EV as in fact the D90EV is just a standard D90 with the upgrade kit already installed.
Does the D90 use the same print media as the Smart D90EV?
As they are in effect the same printer, the print media for the D90 is the same as a D90EV. In fact the D90 has the widest range of media for any Mitsubishi Printer can use 13 different media types (at time of writing)
Can you print panoramic prints on the D90?
Do you need to use an App on your smartphone to use the Smart D90EV?
The Smart D90EV can be used with your mobile phone without the need to download an App. Just connect your mobile phone or tablet to the Smart D90's wifi (no internet connection required) and you can use the printer without the need to download a specific app. The rest is simplicity itself and you'll be creating great photos and selfies within seconds.
The automatic branding can be pre-configured or the user can select for themselves.
If you want to use the increased functionality then you can download the PhotoPrint App for iOS or Android and take advantage of extra features.
Printing from a Smartphone to the Smart D90EV

Can I rent or hire a Smart D90EV Printer?
What is rollback technology?
Rollback technology is the ability of the printer to use any unused media when printing a smaller size print. For example when a 6×4 print is printed on 6×8 media half of the media isn't used. Rollback technology means that when the next 6×4 is printed the ribbon is wound back and the unused part of the ribbon is used reducing waste. Rollback or rewind technology is built into specific printers.