HiTi is well known for high-quality, innovative and cutting edge technology.Who else in the industry, releases a printer that can print 2000 prints per hour with an outstanding quality. No-one else of course.
They have changed the way Panoramic printing works with the new X610 Printer. There are a few Dye Sublimation Printers in the industry that print 360 panoramic prints to this prestige level and size. You can print from 6×4″ up to 6×56″ panoramic images.
One of the most exciting features of the X610 is the ability for you to print tandem prints. This ability to print tandem prints allows the X610 to print up to 2000 prints per hour. This must be a world record!
HiTi X610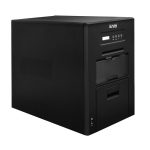 The X610 One Pass Tandem Printer opens up a world of possibilities and allows you to provide a new and exciting range of possibilities for your clients and guests. You can print even more images in even less of the time. This will increase your profit greatly.
The X610 is perfect for large scale events, where both time and quality is of  uppermost importance. Events, such as Proms, Themeparks, Festivals or tourist attractions are ideal locations for this outstanding printer.